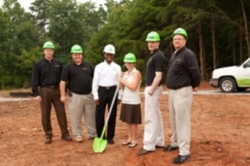 This groundbreaking celebrates the hard work of everyone involved in the contest, the design and the build, so I think I speak on behalf of the entire team when I say we can't wait to see the beauty of this home come to life
Lincolnton, N.C. (PRWEB) July 8, 2010
Schumacher Homes, a leading on your lot custom home builder, broke ground June 30 in Lincolnton, N.C. at the future 20-acre home site of Wray and Sarah Warner, winners of the builder's Great Green Giveaway contest.
Through the giveaway, the Warner family won The Designed Exterior by Ply Gem building package, valued at up to $30,000, including energy efficient aluminum clad wood windows, insulated vinyl siding, polymer hand-split shakes, stone veneer and accessories. Products included in this prize package are NAHB (National Association of Home Builders) Research Center Green Approved for energy efficient, low maintenance attributes. The Warner family is applying the package to a 2-story Craftsman style custom home, which was designed with the help of the Warners, the Schumacher design team, Ply Gem and architectural firm BSB Design.
"This groundbreaking celebrates the hard work of everyone involved in the contest, the design and the build, so I think I speak on behalf of the entire team when I say we can't wait to see the beauty of this home come to life," said Paul Schumacher, founder of Schumacher Homes.
The custom designed home is slated for completion in mid-November 2010.
For more information on The Designed Exterior by Ply Gem, visit Ply Gem.
About Schumacher Homes
Founded in 1992, Schumacher Homes is one of the country's leading on your lot custom home builders and has built more than 6,000 custom homes and energy efficient homes. They have design centers serving Arkansas, Indiana, Kentucky, Louisiana, Pennsylvania, North Carolina, Ohio, South Carolina, Tennessee, Texas, Virginia and West Virginia. Additional information and interactive floor plans can be found at schumacherhomes.com.
About Ply Gem
Ply Gem, headquartered in Cary, N.C., is committed to helping North America's homebuilders, remodelers, architects, distributors, dealers and retailers do more than build homes. Ply Gem wants to help them build their business. The Company offers an unmatched solution to exterior building product needs with a portfolio that includes leading window, door, siding and accessories, stone veneer, fence and rail brands so there is something for every project. Ply Gem siding brands including Mastic Home Exteriors™, Variform®, NAPCO®, Ply Gem® Stone, Kroy®, Cellwood®, Georgia Pacific, DuraBuilt®, Richwood®, Leaf Relief® and Monticello® Columns. Ply Gem Windows manufactures and markets vinyl, vinyl-clad, wood-clad, aluminum-clad, and aluminum window and patio door brands including Ply Gem® Windows, Ply Gem® Canada and Great Lakes® Window. The Company's brands are sold through short-line and two-step distributors, pro dealers, home improvement dealers and big box retailers. Ply Gem employs more than 4,200 people across North America. Visit http://www.plygem.com for more information.
###