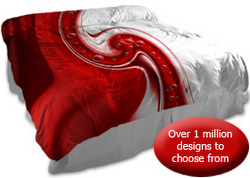 Pierre, SD (PRWEB) July 7, 2009
VisionBedding.com has created a unique experience for home decor shoppers online. There are over 1 million - yes, one million designs and styles, in the design gallery for customers to choose from. All of the home decor products can use any of the designs. They offer bedding, pillows, wall murals, blankets, posters, baby decor and more.
Using their special process, VisionBedding can turn any digital design or photograph into a number of unique home decor products. This allows for unlimited options when it comes to colors, layouts, and designs.
It is a designers dream when it comes to doing a redecorating adventure on any room in the house. With so many design choices the customer is surely able to find that perfect piece of decor they imagined. VisionBedding can also specially alter any design to your specification and create truly custom home decor.
"We have always had the capability to use any image for our home decor products, but not all customers had the perfect image they wanted, so we new the addition of a huge design gallery with nearly unlimited choices of images would truly benefit our customers," says CEO Justin Poile.
With this new addition to the website - customers can also find over 200 categories of theme related designs already pre-selected for them. Everything from abstract to zebra print, or Safari to Shabby Chic desigs with over 200 choices in each of these specific categories. Customers can find home decor choices that are impossible to find anywhere else on the web or even in stores. For example, there are very few choices on the market for teen girls home decor, or very specific home decor such as space themed home decor, and even tropical decor is limited to some mainstream designs... the list can go on and on.
"We have set a goal at VisionBedding; and that is to offer the public the largest selection of unique home decor choices in the world!" says CEO Justin Poile.
###