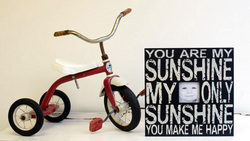 "We Have A Way With Words" Stacey Tomisser, The Painted Word
Auburn, WA (PRWEB) April 21, 2011
The Painted Word, a leading manufacturer of home decor signs and picture frames, today announced the launch of their new website. The Painted Word, specializing in home decor, manufactures a wide variety of themes from baby and kids signs and frames, beach signs, wine themed signs and a full line of classic and humorous sayings that delight their clients.
Founded in 2001 by Jim and Stacey Tomisser, this independently owned business has made great inroads offering their wooden wall decor signs, home decor signs and personalized frames through traditional retail outlets.
Now they have taken their unique blend of quality wooden decor signs to a new level with the opening of their new online store developed specifically for wholesale clientele.
The new site offers the convenience of online ordering and has been developed to meet the needs of the wholesale clients specifically. While still having the convenience and traditional feel of an online shopping cart, it is structured differently to reflect the different quantity demands and payment structures needed by wholesale clients.
"While it appears very similar to a traditional shopping cart environment, it has been set up to appeal specifically to wholesale customers and their special needs," stated Jim Tomisser. "For instance, even though we collect all our client's information including credit card information, we bill only when the product is actually shipped, which is the traditional way to do things in the wholesale world. Assembling product for wholesale is different than a single order or two in the retail world and it can take some time to prepare a large custom order, and this now streamlines the entire process not only for us, but for our clients."
The Painted Word offers unique decorative signs and picture frames perfect for any room in your home. Their silk screened signs are a thing of beauty because of their simplicity. It's their appeal to the heart of their customers that make them so popular.
"I love words, quotes, gift-giving and decorating", stated Stacey Tomisser. "I think it's important to give and surround yourself with beautiful and encouraging words. We combine humor, as well as meaningful sentiments, with rich color choices to offer wall signs that women love. We are thrilled to offer these products through our new online wholesale website."
Women are the keeper of their homes, they go to great lengths in deciding it's colors and how it's decorated. By decorating with welcoming words it helps to create that special place that everyone loves to come home to.
Certain products in the Painted Word line, like baby picture frames, also make for great family keepsakes that can be passed down for generations creating incredible family heirlooms and memories.
The Painted Word's company slogan is "We Have A Way With Words", and those words will brighten each room, from the kitchen to the playroom, as well as welcome guests to your homes.
There's a wide variety of wall signs, decor signs and picture frames to choose from, along with many color choices and styles.
"Family is so important to me, and making a home is something I work very hard at. I want everyone who comes through my door to feel welcomed and loved. I want my home to be a soft place to land," said Tomisser. "That's why women love our products, we have wall signs, décor signs and picture frames that speak to their heart and reflect their feelings for the people they love most."
When you need just the right thing to compliment your boutique or retail space, you may want to visit The Painted Word to see their line of wall signs, décor signs and picture frames for that special gift that is sure to be treasured by your customer.
# # #