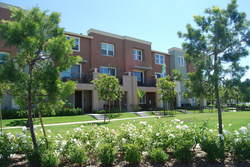 Seal Beach, CA (Vocus) September 16, 2010 -
Who hasn't at one time or another visited new model homes to get inspired by all the great home design ideas abound in every room? You see a great piece of art. That perfect lamp. That great little wall treatment. Everyone wants to have their new home look like a model, but once you move in and are surrounded by all those blank walls staring back at you, it can be a bit overwhelming. That's why Olson Home's model home design team will be sharing their tricks of the trade to guide homebuyers through the proper use of space, color, and how to arrange their existing furniture for a fresh new look. Olson Homes is offering this Model Home Design bonus available on select new homes through the month of September. To put all that great design advice to work, Olson Homes is giving a little design help by way of a bonus $1,000 gift card for a home decoration shopping spree.
This New Home Design assistance offer is available at Mosaic Walk™ in Garden Grove, Rio Walk™ in Montebello, and Willow Walk™ in Compton. New homebuyers that purchase in September will get Olson Homes very own model home designers to work specifically for them. They will assist homebuyers to help create that much desired model home feel.
Homebuyers will get a free Interior Home Design Consultation plus a $1,000 gift card good at select home design stores to splurge on making that new home a showcase. The Designer Package and Customized Planner Includes: 3 personal design consultation appointments, CAD Interior Space and Furniture Plan, Color Palette, Color swatches, Interior design recommendations, Paint color recommendations, Window treatment ideas, Home decor shopping and design tips, and of course a $1,000 gift card for a homes design shopping spree at a home design store such as Bed, Bath and Beyond.
Since fall is the season for looking inward and sprucing up the home for the upcoming holidays, Olson Homes is having a Dine and Design Event on Saturday, September 25th from 12-3. Olson will have their professional interior model home designers on site at all three of these communities to answer any questions about model home decor, how to make the most of your space, where to buy furniture like you find in our model homes, how to select the best paint color choices for the home, and so much more! Free lunch will be provided at all three communities by the now famous Kogi Gourmet Food Truck.
To learn more about the Dine and Design Event and the special Interior Home Design special offer, visit our community websites: Mosaic Walk™ in Garden Grove, Rio Walk™ in Montebello, and Willow Walk™ in Compton.
About The Olson Company--
Founded in 1988, The Olson Company is California's leading developer of innovative and affordable In-town communities in established neighborhoods. The Olson Company creates uniquely designed communities which redevelop and enhance neighborhoods utilizing transit-oriented developments, live/work, mixed use developments, brownstones, single family attached and detached homes in partnerships with cities and other agencies.
Headquartered in Southern California with communities throughout the state, Olson is a recipient of America's "Builder of the Year." Further information about Olson Homes can be obtained online at Olsonhomes.com. Willow Walk™ and Mosaic Walk™, and Rio Walk are registered trademarks of The Olson Company and In-Town Living, Inc.
# # #