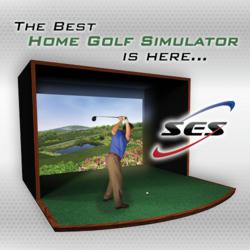 This simulator brings a level of sophistication and the ultimate golf experience to the home user
Lafayette, Colorado (PRWEB) February 28, 2013
SES - Sports Entertainment Specialists, Inc. announces the public release of the Premium Residential Golf Simulator. Currently the most advanced system on the market, this model offers unrivaled graphics, software and hardware. "This simulator brings a level of sophistication and the ultimate golf experience to the home user," commented Todd Mallon, President of SES.
The Premium Residential comes standard with 57 courses of E6 golf, including Pebble Beach and St. Andrews, and the option to upgrade to over 80 of the world's finest venues. "The Premium Residential brings the best courses of the world right to your home. And the environment of E6 Golf software is so realistic, you can almost feel the wind blowing, " added Jason Trupp, Sales Manager at SES. The software also includes an integrated Swing Analyzer, providing game improving feedback, and a practice area complete with Driving Range, Chip, Putt and Scoring Zone.
Powered by high definition projection to a huge 174 inch diagonal screen, a state-of-the-art computer, 21 inch touchscreen monitor and high quality construction, the Premium Residential is the true leader in simulation. The TruTrac revolutionary tracking system with illuminated hitting area allows every user to easily follow their shot and receive valuable feedback. The Premium Residential utilizes a high performance, commercial grade impact hitting screen and a durable, lush green, premium nylon putting turf.
"I love to play golf outdoors, but when the snow is drifting and the lightning flashing, I have the next best thing right here in my basement!" added customer Bill McIntyre. The structure's dimensions measure 14'1"W x 18'D x 9'8"H. In addition, SES offers great add-ons and works closely with each client to ensure the best design and installation for their home.
About SES - Sports Entertainment Specialists, Inc.
SES is an award winning expert in the sports simulation industry. Their mission is to provide the best products, essential guidance and service to their customers searching for high-end sports simulators. SES offers the most easy to use, cutting edge, indoor golf simulators, virtual sports systems, hunting and shooting simulators as well as golf practice aids and putting greens.
For more information visit: http://www.sportsentertainmentspecialists.com