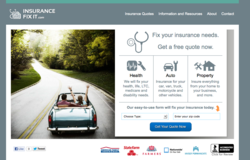 This little checklist ensures that you have taken all the steps needed to protect your home and could keep your homeowners insurance costs at a minimum
Baltimore, MD (PRWEB) January 11, 2013
InsuranceFixIt has released a new article which outlines eight of the most important things homeowners can do to prevent unforeseen winter damage and insurance claims to a home.
Many homeowners fail to winterize their home prior to the new year simply because they are too busy with all of the holiday activities. However, the coldest week in many regions are typically right after the new year.
InsuranceFixIt.com has release their 8 step guide to help home owners prevent damage that may create expenses and claims that may cause their insurance premiums to go up.
"Homeowners insurance average costs could go up if you neglect caring for your home in a responsible way," said Michele Postler, Senior Editor for InsuranceFixit.com. "This little checklist ensures that you have taken all the steps needed to protect your home and could keep your homeowners insurance costs at a minimum throughout the life of your home," said Postler.
The InsuranceFixIt guide to Winterizing the Home includes:

Exterior inspections tips
Inspections of Winter Equipment tips
Plumbing Maintenance tips
Emergency Kit tips
To find out more about InsuranceFixIt and the other helpful tips for home owners, please visit: http://insurancefixit.com/home/
About InsuranceFixIt
InsuranceFixIt.com provides home owner insurance quotes. InsuranceFixIt.com features a variety of articles and resources for home owners who need home owner insurance policies. InsuranceFixIt.com is a member of PRprofile, a website dedicated to helping businesses build a publicity presence online. For more information about InsuranceFixIt, please visit: http://InsuranceFixIt.com/