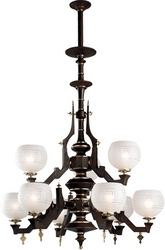 The impressive scale of the Neo-Grec line creates impact and a magnificent focal point to any room. The lights are best showcased in rooms with high ceilings, and are ideal for dining rooms, living rooms, parlors, offices and entryways.
Portland, OR (PRWEB) March 10, 2009
Rejuvenation announces a new line of Neo-Grec lighting fixtures that are as dramatic as they are distinctive. Strong in character and large in scale, these gas-style fixtures are rich with period-authentic detail and sure to command attention in any setting.
The Neo-Grec series features three chandeliers and one wall fixture. With more than 20 unique custom parts, five of which are hand-cast in aluminum using the lost-wax method, the Neo-Grec family is one of the most ambitious and visually striking fixture lines available on the market.
"The Neo-Grec style evolved in America after the Civil War as a fresh and free interpretation of earlier Greek Revival themes, introducing elegantly refined 'New Greek' motifs into design and architecture throughout the 1970s. For many years, this was the most popular lighting style in the U.S.," states Bo Sullivan, Rejuvenation historian. "The impressive scale of the Neo-Grec line creates impact and a magnificent focal point to any room. The lights are best showcased in rooms with high ceilings, and are ideal for dining rooms, living rooms, parlors, offices and entryways."
Filling a Market Need
Finding authentic 1870s lighting can be a Herculean task for many homeowners and architects. There are few historically accurate reproductions and original fixtures are notably scarce, exceptionally expensive, and rarely available in the multiples necessary for larger rooms or historic buildings. The Neo-Grec line fills this void with both choice and value.
Featured in National Historic Landmark: The Eisenhower Executive Office Building (EEOB)
"While this line is great for homeowners, it's also ideal for renovations of institutional and commercial buildings where authenticity and sets of coordinated fixtures are necessary," states Dan Mattausch, historic lighting consultant from The American Gas Light Gallery in Washington, DC. "We used customized 6-arm and 4-arm versions of the Syracuse in the meticulous restoration of the old Secretary of State's office suite in the 1871 Eisenhower Executive Office Building that sits adjacent to the White House. For totally custom reproductions we were facing an expense of $50,000 per fixture, but with the meticulous production work already done by Rejuvenation, the cost was a small fraction of this price. For this job, Rejuvenation was even able to build the fixtures with discreet compact fluorescent technology that allowed them meet strict energy-efficiency standards without compromising the appearance of historical accuracy."
Customers Find New Inspiration in the Old
Rejuvenation is passionate about preserving the integrity of older homes and buildings. And while many customers seek period-authentic lighting to achieve a look true to their home's history, others now use period fixtures in more creative and inspired ways.
"While our Neo-Grec fixtures would be at home in any Victorian, they are so bold and striking that we're also seeing customers drawn to them as a style statement in eclectic modern interiors. Our customers tend to mix and match styles. We love to see the creativity and possibilities when they personalize their space with our fixtures," says Bonnie Choruby, Rejuvenation's vice president of marketing and merchandising.
Neo-Grec Product Specifications
The Neo-Grec fixture series includes the Syracuse, Rhodes, and Daphne chandeliers, along with the Minerva wall bracket. All fixtures are available in a chocolate brown finish with shade options. Chandelier prices range from $2,500 to $8,500 and the Minerva wall bracket is priced at $500. Overall length and number of arms can be configured to suit different settings. For detailed configuration and pricing information, please visit http://www.rejuvenation.com.
About Rejuvenation
Rejuvenation was founded in 1977 with a passion for old houses and buildings. Today, it is America's largest manufacturer and leading direct marketer of classic American lighting and house parts. Inspired by history, period-authenticity and customer creativity, Rejuvenation's diverse line spans the 1870s to 1960s. Collections include: Early Eclectic, Period Basics, Historic Revivals, Arts & Crafts, Colonial Revival, and Modern America. Homeowners can stay true to their home's era, and also have the flexibility to mix-and-match styles to create more personalized and eclectic environments.
The company donates ten percent of its after-tax profits to non-profit organizations dedicated to environmental conservation, historic preservation, the arts, and equal-access housing. Products are sold through the company's catalogue, retail stores in Portland, Ore. and Seattle, Wash, and websites http://www.rejuvenation.com and http://www.satellitemodern.com.
###