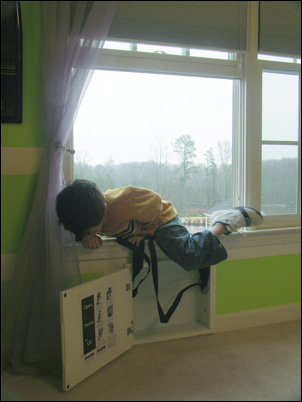 We take pride in all of our home improvement services, but selling and installing PEARL is a service that we're honored to offer our customers. We are confident this product will save lives in our community
Atlanta, Georgia (PRWEB) April 24, 2007
PEARL Protected®, creators of the patented Permanent Escape And Rescue Ladder (PEARL®) for two and three-story homes, today announced that local Mr. Handyman franchises in Victoria, British Columbia have expanded their offering to include the PEARL permanent escape ladder. As part of its comprehensive home improvement services, Mr. Handyman will sell and install the life-saving device directly to customers. The company will officially introduce the PEARL ladder to area residents at the Victoria Spring Home Show, held April 27-29th at the Juan de Fuca Rec Centre.
The PEARL ladder is a revolutionary escape solution that is permanently installed into the interior wall space beneath second and third-story windows. By simply tossing the ladder out the window, PEARL provides an easy-to-use means of escape that is right where you need it, when you need it - like an air bag for the home.
The ladder is ideally suited to protect residents against the threat of home fires. In 2001, there were more than 53,000 fires reported in Canada resulting in over 2,500 deaths and injuries (Source: Fire Prevention Canada). A significant portion of these casualties are the direct result of not being able to escape from upper-story bedrooms.
Despite the overwhelming number of fire-related casualties throughout North America, a recent online survey of U.S. residents by Zoomerang Research discovered only 10 percent of respondents have a portable or permanent escape ladder in their home. However, 44 percent of those surveyed have either personally experienced or know someone who has experienced a house fire.
By offering and installing the PEARL permanent escape ladders, local Mr. Handyman technicians are helping improve residential fire safety in homes across the region. Homeowners requesting Mr. Handyman services for a leaky faucet (or other home improvement project) will have the opportunity to learn about and purchase PEARL directly from their Mr. Handyman technician.
"We take pride in all of our home improvement services, but selling and installing PEARL is a service that we're honored to offer our customers. We are confident this product will save lives in our community," said Rick Tonogai, owner, Mr. Handyman of Victoria.
Since PEARL's debut in October 2005, it has become one of the most recognized home safety products in the marketplace. PEARL has received the U.S. Home Safety Council's 2006 Product Innovation Award and has been featured in multiple episodes of Extreme Makeover: Home Edition, The Wall Street Journal and Better Homes & Gardens magazine.
Founded in March 2000, Mr. Handyman is a member of Service Brands International, a group of service companies that provide a variety of timesaving services ideally suited for today's active customer. Mr. Handyman currently offers its services through independent franchises and qualified technicians across Canada, including Victoria and other parts of British Columbia. To contact a technician in this area, please call (250) 391-6333.
About PEARL Protected
Headquartered in Atlanta, Georgia, PEARL Protected is redefining the standards of home and fire safety through its patented, breakthrough product - PEARL - a revolutionary Permanent Escape And Rescue Ladder that can be quickly and easily deployed in the event of a residential fire or other home emergency. It is currently available through a variety of channels, including the nation's largest homebuilders, building supply dealers, home safety companies and remodelers and maintenance specialists. PEARL can also be ordered directly through the PEARL Protected website (http://www.pearlprotected.com) or via phone at 800.374.5737.
For more information, contact:
Hannah C. Bower
Bower Communications
404.371.3989
hannahbower-communications.com
###