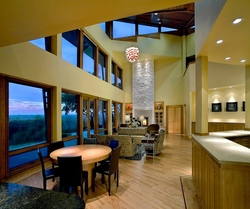 What is most exciting about this year's tour is when you walk into a featured home you'll feel like you have traveled to some of the country's beloved vacation spots
Austin, TX (PRWEB) October 13, 2007
AUSTIN NARI, the local chapter of the National Association of the Remodeling Industry is holding its 5th Annual Tour of Remodeled Homes sponsored by Dupont Tyvek, Saturday and Sunday, October 20 and 21 from 12-6 p.m. Travel throughout the Greater Austin area and explore remodeling possibilities through the eyes of some of AUSTIN NARI's most talented remodelers.
This is your personal passport to see stunning renovations and additions for a variety of home styles, many inspired by beautiful American getaways. "What is most exciting about this year's tour is when you walk into a featured home you'll feel like you have traveled to some of the country's beloved vacation spots," said Stephanie Fitzharris, Tour Committee Chairwoman and president of The Faux Co. "It promises to be inspiring and displays some of the most unique interior finishes we've seen to date."
Projects include fabulous single room to whole-house remodels by award winning contractors. See spacious remodeled kitchens, family leisure and media rooms, outdoor entertainment areas, bathroom remodels and two-story additions. The showcased projects range from $80,000 up to over $1,000,000 in spectacular renovations by Masterpiece Remodeling & Design, Eric Harrison Builders, T.A. Todd Construction, Austin Creative Builders, Hacienda Construction, Realty Restoration, Marsh Vorspan Partners, Don Boozer Construction and CG&S Design-Build.
The tour features great new design and building techniques, custom hand-made cabinetry and creative use of reclaimed building materials, beautiful furnishings, green building technology and unique storage solutions.
Take a drive and visit a photographer's contemporary Rocky Mountain retreat in northwest Austin, step back in time by walking through a magnificent Frank Lloyd Wright-inspired renovation off City Park Road and tour an expansive Texas Tuscan villa in Georgetown with an atrium tower, guesthouse and outdoor pavilion.
Marvel at the handmade cabinetry and antiquities in a gorgeous west Austin bath that is Southern living at its finest, or take a trip to the King Ranch with a renovation designed around antique furnishings, including a bed that LBJ and Lady Bird slept in from the ranch. Drive up the road and warm up to a massive reclaimed stone fireplace, straight out of an Appalachian lodge with antique hand-made trusses and an ingenious gourmet kitchen.
Should you desire to "stay" close to home, visit the beautifully remodeled traditional Lake Austin estate with striking details and a new view of the water. Perfectly matched for the historic Austin neighborhood, it is a lovely second story addition and kitchen transformation not to miss. Finally, for the truly authentically Austin experience, stop over at the eclectic Clarksville cottage with gorgeous detailing and surprises in every room.
You may begin the tour at any home and tickets are available at each for $5.00 per home or $20 for all nine. For a map and more information, visit Home Tour Info or call 512-708-0637.
About AUSTIN NARI
AUSTIN NARI, a non-profit organization, is the central Texas chapter of the National Association of the Remodeling Industry. For over 30 years, the association (formerly the Austin Remodelers Association) has been assisting quality general contractors, subcontractors, suppliers, and related service providers as well as homeowners seeking remodeling information. AUSTIN NARI has access to the latest industry news and state-of-the-art developments through regular meetings, advice and training by experts in their field, publications and networking events.
Tour Sponsors:

DuPont Tyvek
Don Boozer Construction, Inc.
Davis & Wilkerson, P.C.
Realty Restoration
ProSource Wholesale Floorcoverings
Katz Builders, Inc.
Grand Openings, Inc.
Factory Builder Stores
Artisan Hardwood Floors
American Light
Austin Design Guide
CG&S Design-Build
Davis & Wilkerson
Dawn Hearn Interior Design
National City Mortgage
Schroeder Carpet & Drapery
The Faux Co.
# # #