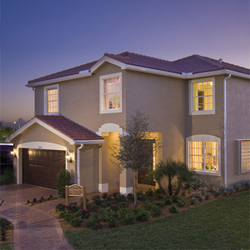 Boynton Beach, FL (PRWEB) October 15, 2009 -
As reported on Bloomberg.com, the National Association of Home Builders/Wells Fargo homebuilder confidence index reached its highest level since June of 2008 signaling that new home sales for builders may also be rising. That's particularly true for G.L. Homes which has seen an increase in the builder's new home sales in Palm Beach County, Florida. Home values have stopped their decline and G.L. Homes has sold a record number of homes compared to last year.
The numbers tell the story. New home sales for the builder are up 100 percent over last year in many G.L. Homes communities across Florida, while traffic to the sales centers is up on average more than 70 percent.
G.L. Homes builds across the home buying continuum,offering communities for first time homebuyers to those moving up to more spacious homes to those looking for the active adult lifestyle. In G.L. Homes' markets, from Hillsborough County to Palm Beach County Florida, new home sales are on the increase, giving this builder a great sense of confidence in the real estate market.
Greystone is among the GL Homes communities that appeal to first-time homebuyers. GreyStone, is a single-family and townhome community in Boynton Beach where nearly 150 homes have been sold since January, and more than 60 percent of the community's 552 homes are closed. Botanica Lakes in Fort Myers and Falcon Trace in Vero Beach are also ideal for first-time home buyers.
Botanica Lakes offers incredible new home value with single-family homes priced from just $149,900. Falcon Trace in Vero Beach features new homes priced from just the $180,000s.
The new home sales increase in 2009 is great news for companies such as G.L. Homes which has a sterling reputation as one of the top home builders in Florida and across the country.
South Florida Business Journal recently ranked G.L. Homes the number one builder in South Florida and Builder Magazine's 'Builder 100' ranked G.L. Homes as the 25th largest privately-held builder in the U.S. based on 2008 revenues. G.L. Homes is ranked the 2nd largest privately-held builder in Florida by Professional Builder magazine for 2008.
# # #