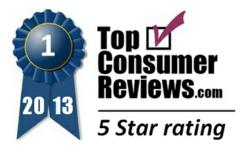 We hope our research and independent reviews will help the customer feel confident in their home security decision.
Overland Park, KS (PRWEB) December 31, 2012
TopConsumerReviews reveals their picks for best home security systems. TopConsumerReviews.com provides independent reviews for thousands of products including home security systems in order to help consumers make well informed decisions.
Without a detailed review, several home security companies appear to offer similar products and services. Each year TopConsumerReviews.com carefully investigates a number of home security systems to help homeowners choose the best option for their needs. The result of this investigation typically drives a small handful of companies to the head of the pack.
Brian Dolezal of TopConsumerReviews.com explains, "With burglaries occurring every 13 seconds in our nation, people are looking for the right home security system to safeguard their home and family. We at TopConsumerReviews.com do much of the leg work for consumers by closely reviewing several home security companies at once. The ultimate decision is up to the customer but we hope our research and independent reviews will help the customer feel confident in their home security decision."
Protect America provides the latest technology and a 24 hour nationwide monitoring system for a great price. This budget friendly choice provides free equipment and no installation charges so that just about anyone can afford to protect their home or apartment. The support staff at Protect America are not only friendly but knowledgeable without a heavy sales pitch. For those looking to protect their home safely and affordably, Protect America is a top choice.
FrontPoint Security provides a top quality wireless home security system. Homeowners can save significantly on installation costs and flexible contract periods at FrontPoint. Easy installation and a strong monitoring service at FrontPoint earns positive feedback from customers. FrontPoint Security is a great choice for home security needs.
ADT is a well-known name in the home security market. They score high marks for their monitoring service and reliable equipment. Homeowners can expect to pay a little more for installation and equipment costs, but many appreciate the long history and reputation that ADT brings to the table.
Vivint incorporates the latest in technology to allow the resident to take control of their home with a computer or Smart Phone. Monthly monitoring and wireless access are more expensive than other home security companies but many people are willing to pay that for the access to solid technology. For families looking to combine home automation with wireless access to home security, Vivint is worth consideration.
To find out more about home security companies, including reviews and comparison rankings, please visit the Home Security Systems category of TopConsumerReviews.com at http://www.topconsumerreviews.com/home-security/.
About TopConsumerReviews.com
TopConsumerReviews.com, LLC is a leading provider of independent reviews and rankings for thousands of consumer products and services. They offer the latest on Home Security including information, education, and ratings for the best home security systems available today.