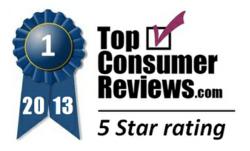 Home security systems have evolved dramatically from even 10 years ago.
Overland Park, KS (PRWEB) January 03, 2013
TopConsumerReviews.com has published the top trends in home security systems. TopConsumerReviews.com provides independent reviews for thousands of products including home security systems in order to help consumers make well informed decisions.
Home burglaries occur approximately every 13 seconds in the US. Residential properties without a working security system are 300% more likely to have a break in occurrence. Statistics show that many home invasions actually occur during daylight hours, especially during the summer months when children may be home during summer break.
Home security systems have evolved dramatically from even 10 years ago. Many of the most noteworthy trends today are the result of technology improvements:
Wireless Home Security
The move toward wireless home security systems is one that many companies are quickly converting to. Wireless technology means faster, cheaper and less invasive installation. Homeowners no longer a required to maintain a landline or lose services should an outside wire be tampered with.
Video Technology
Camera and video technology have become a much desired trend in home security systems. With the use of a computer or smart phone, homeowners may quickly look at the interior or exterior of their home to look for potential intruders, check on the arrival of children and more. Today's affordably priced cameras make it feasible to place real-time HD cameras at several key location around the home.
Self Monitoring
Improvements in mobile technology have contributed to a trend in self-monitoring. With this option, a home security system notifies the homeowner you if the alarm has been triggered. This gives the homeowner the chance to check real-time video monitoring and call the authorities as needed.
Home Automation
Home automation is another popular trend in home security. Home security systems with a home automation option can check and change the thermostat, turn on or off certain appliances, control specific electrical outlets and lights, and control home entertainment centers.
To find out more about home security systems, including reviews and comparison rankings, please visit the Home Security Systems category of TopConsumerReviews.com at http://www.topconsumerreviews.com/home-security/.
About TopConsumerReviews.com
TopConsumerReviews.com, LLC is a leading provider of independent reviews and rankings for thousands of consumer products and services. They offer the latest on Home Security including information, education, and ratings for the best home security systems available today.