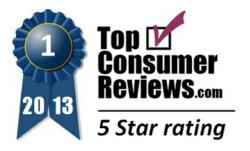 TopConsumerReviews.com closely analyzes several home security systems each year.
Overland Park, KS (PRWEB) January 08, 2013
TopConsumerReviews has announced that FrontPoint Security and ADT make the list of top home security companies. TopConsumerReviews.com provides independent reviews for thousands of products including home security systems in order to help consumers make well informed decisions.
Each year TopConsumerReviews.com carefully analyzes the nation's leading home security companies to determine who ranks among the best. That rating is determined by a number of factors with quality, value and customer service as important indicators for overall customer satisfaction.
Brian Dolezal of TopConsumerReviews.com explains, "With burglaries occurring every 13 seconds in our nation, people are looking for the right home security system to safeguard their home and loved ones. But making the right home security decision can be overwhelming with so many companies to choose from. TopConsumerReviews.com closely analyzes several home security systems each year. We feel that the decision is ultimately up to the customer but we hope our research and independent reviews will help them feel confident in their home security system choice."
FrontPoint Security provides a top notch wireless home security system. Money is an important decision factor and customers like the zero installation costs and flexible contract periods they find at FrontPoint. Remote access capability, easy installation and a strong monitoring service at FrontPoint are other features that stand out with customers. FrontPoint Security is a tremendous choice for home security needs.
ADT is a well-known name in the home security market. They score high marks for their monitoring service and reliable equipment. They use experts to evaluate a home's security needs and insist that a trained technician install all of their products. Expect to pay a little more for installation and equipment costs but homeowners appreciate the long history and reputation that ADT brings to the table. For customers whose decision making is influenced by long-standing reputation, ADT might be a good choice.
To find out more about home security companies, including reviews and comparison rankings, please visit the Home Security Systems category of TopConsumerReviews.com at http://www.topconsumerreviews.com/home-security/.
About TopConsumerReviews.com
TopConsumerReviews.com, LLC is a leading provider of independent reviews and rankings for thousands of consumer products and services. They offer the latest on Home Security including information, education, and ratings for the best home security systems available today.