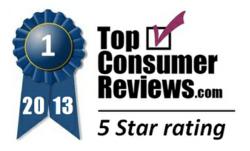 Protecting a home is important to Ohio residents for the safeguarding of their families and important valuables.
Columbus, OH (PRWEB) January 17, 2013
TopConsumerReviews.com announced the best home security companies in Ohio for 2013. TopConsumerReviews.com provides independent reviews for thousands of products, including home security systems, to help consumers make the best decision possible.
The state of Ohio reports nearly 750,000 incidents of burglary, larceny and theft each year. That equates to an average crime occurring with every 350 people per 100,000. Ohio also reports a crime rate of 23 incidents, on average, per square mile and nearly 16,000 physical assaults or murders per year. Looking at it in those terms can be astonishing for many residents who assume their Midwestern state is safe from crime.
Protecting a home is important to Ohio residents for the safeguarding of their families and important valuables. A multi-step approach to securing a home is the most effective. That would include well placed exterior lighting, quality dead bolts and a home security system.
TopConsumerReviews.com found that across several home security systems companies, those that provided the 24 hour monitoring service, the latest technology, and affordable pricing ranked the highest in overall customer satisfaction. Wireless systems were also an important satisfaction factor especially for apartment dwellers. In addition, many consumers reported a positive reaction to home security systems with remote access technology. This allows homeowners to check real time video, lock a door, and engage the security system from their phone or computer at any location.
TopConsumerReviews.com also identified that, for most consumers, a flexible home security package brings the highest level of customer satisfaction at time of purchase. Choosing a reliable home security company that offers system customization and several package options better meets the needs of each homeowner's security needs.
FrontPoint Security provides the latest technology in their wireless home security system. Customers save significantly on both installation costs and flexible contract periods. Homeowners also enjoy an easy installation process and a strong monitoring service with FrontPoint. They are a great choice for home security needs.
Protect America offers top notch technology and a 24 hour nationwide monitoring system for a great price. This affordable security choice provides free equipment and no installation charges so that anyone can protect their home or apartment. The support staff at Protect America are friendly and knowledgeable when dealing with their customers. For people who want an affordable way to protect their home and family, Protect America is an excellent choice.
ADT is one of the most well-known names in the home security industry. They earn high marks for their security monitoring service and reliable equipment. Homeowners should expect to pay more for their installation and equipment costs, but many people will appreciate the long history and reputation of ADT.
To find out more about home security companies, including reviews and comparison rankings, please visit the Home Security Systems category of TopConsumerReviews.com at http://www.topconsumerreviews.com/home-security/.
About TopConsumerReviews.com
TopConsumerReviews.com, LLC is a leading provider of independent reviews and rankings for thousands of consumer products and services. They offer the latest Home Security information including education and ratings for the best home security systems available today.