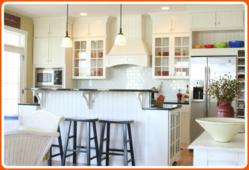 Looking at the market in the winter allows prospective buyers to take their time, find what they want and then be done with the process in time to live the relaxing boating lifestyle ... .
Ottawa, IL (PRWEB) December 22, 2012
When it comes to winter, hibernation is for the bears, not the real estate industry. The winter tends to get overlooked in the real estate industry, especially when it comes to vacation homes, but savvy buyers know it can be the time to pounce on a great deal.
Heritage Harbor Ottawa, premier waterfront resort and marina in Ottawa, Ill., recently spoke with real estate professionals from around the nation to get the scoop on winter buying and why the low competition of the holidays has its perks.
It's no secret that due to current economic factors everyone is looking for the best deal, says Atlantic & Pacific Real Estate Executive Vice President Wendy Forsythe. But those same economic factors could play a role in reversing the negative stigma associated with winter buying and selling. This winter, in particular, shows significant growing potential, she says.
"Heading into this winter, we are experiencing a couple of economic factors that work very much in a potential home owners favor …," Forsythe says. "One: historically low interest rates. And two: house prices that in many markets have hit the bottom and are beginning to show signs of appreciation. For homebuyers who have been sitting on the side lines waiting to jump into the market, this means the wait may be over and this winter may be the time to buy."
According to Forsythe, it's likely that home buyers will see the value and jump into the market this winter. She foresees that as the recovery strengthens and confidence builds, so will the home selling competition. So, jumping in sooner rather than later is the best bet.
Darik Eaton, who is both a vacation rental owner and vacation rental property manager on the West Coast, says the vacation home selling pace slows down during the holidays, but this makes it the perfect time to go second or vacation home hunting.
"Home buyers will find less competition during the holiday. With record-low interest rates, and low home prices, we are able to offer our clients cash flow opportunities that we haven't seen before and likely won't see again in the near future," he adds.
But here's where to be cautious, experts say. The "fiscal cliff" situation may have the potential to prevent the pick-up in home buying, according to HomeHub.com, created and ran by the Zuckerman family whom has 4 generations of real estate and home building knowledge.
"Currently, homeowners who sell their home via a 'short sale' don't have to pay federal tax on the unpaid mortgage debt because of a bailout-era law known as the federal Mortgage Debt Forgiveness Act. But the act expires on Dec. 31 and — unless it is extended — the IRS in January will start treating unpaid mortgage debt as taxable income for many borrowers," says HomeHub.com's Public Relations Manager, Maureen Rowland.
Many who are considering buying are most likely paying close attention to the news for fast solution. However, aside from political policies, there are other perks of winter real estate to also throw into the mix for consideration. Buyers must weigh their options on what time is the best for them, and for what reasons.
Tammy Barry of Heritage Harbor Ottawa — Midwest waterfront resort community and marina only 90 minutes from downtown Chicago — says those looking for a vacation home in the winter are setting themselves up for a smooth first vacation season. Ultimately, handling the details in the winter gives buyers more time to spend carefree days with their loved ones and friends.
"Looking at the market in the winter allows prospective buyers to take their time, find what they want and then be done with the process in time to live the relaxing boating lifestyle that our homeowners desire. If you don't start looking until spring or summer, the season could be half over before you even settle in."
The ability to prepare—in a leisurely fashion—is key when utilizing the winter to peruse real estate, Barry says, adding that the season especially allows those interested in Heritage Harbor waterfront homes to find or create a vacation space that fits their needs and wants.
"Now you have the time to decide from available inventories out there that are furnished, already decorated, or it's the time to choose floorplans so that concrete can be poured and construction can start as soon as the cold weather breaks. Either way, it's in the best interest of the buyer."
While many prospective vacation home buyers were likely cautiously waiting for the November elections to pass before making any real estate decisions, now's the time they will be venturing into the market. What's left is to see what 2013 brings.
"Moving into the winter of 2013, I am cautiously optimistic," Forsythe says. "… Early forecasts for 2013 indicate a stabilization in terms of house prices and number of units nationally. There will be some local markets that perform better than others.
"Overall," she adds, "I'm optimistic for modest [real estate industry] improvements."