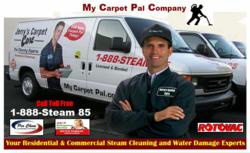 You're going to love the way your home looks and feels with our professional services.
Whittier, CA (PRWEB) February 12, 2013
My Carpet Pal has just opened and is now able to provide home carpet cleaning services to customers located in the Greater Southern California region.
My Carpet Pal specializes in the following carpet cleaning services: regular steam cleaning, deep cleaning, and maintenance cleaning for both business and residential accounts.
All of the My Carpet Pal technicians are trained to provide excellent customer service and quality cleaning. Each carpet and floor technician must undergo a weekly special class room training in order to ensure that the company is up to date with the constant changes in the carpet and floor cleaning industry. Furthermore, My Carpet Pal uses green friendly products to clean all floor surfaces in order to help protect the environment.
In order to celebrate their grand opening, My Carpet Pal is offering lots of specials on business and home carpet cleaning jobs. Customers can have any two rooms cleaned for $85. In order to take advantage of this special offer, customers can call 1-888-Steam-85 or visit the website for a free quote.
About My Carpet Pal:
My Carpet Pal is based out of Whittier, California. Technicians provide home and business office carpet cleaning to the Greater Southern California area. They also provide a 24 hour emergency response team for water damaged homes and business offices. The company provides a 100 percent satisfaction guaranteed policy. My Carpet Pal also offers additional cleaning services through its subsidiary, Jerry's Carpet Care. Additional services include the removal of pet stains, upholstery stains, and tile and grout mildew or soap scum stains, as well as car and boat cleaning services. Jerry's Carpet Care is a member of the My Carpet Pal company.
My Carpet Pal is a licensed and bonded cleaning company. For more information, please contact a representative at 1-888-Steam-85 or visit the website below. Like us on Facebook , follow us on Twitter, or check out our equipment on YouTube.