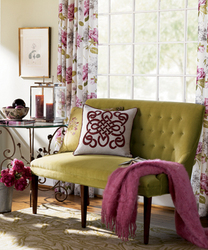 Kennett Square, PA (Vocus) March 16, 2009
Is the economy taking a bite out of your decorating fund? Even small projects can have a big impact on the overall look of a room. Adding fresh touches to your décor is guaranteed to lift your spirits in these challenging times. Consider these simple decorating ideas from the design consultants of Calico Corners - Calico Home. Most cost less than $500 -- and some are totally free, says Jan Jessup, director of communications at the home furnishings retailer.
FABRIC COLLECTORS

Fabriholics, shop your closets! You may own a fabric to start your project. Sometimes the wheel of color has turned and your vintage fabric looks au courant again.
Shop clearance fabrics for the window treatments or sofa upholstery where the most yardage is required. Remember, too, that discounted trims can add bling to a "plain vanilla" project.
REARRANGE

Move your furniture around -- you're not living in a museum. Try different placements or shift furniture and accessories from one room to another.
PILLOWS

Pick a new accent color and change your pillows, tableskirts or throws. Invest in inexpensive accessories and use that color to make a statement.
Make pillows reversible. Use one side for spring/summer and the other for fall/winter. Select welting or trims that work with both.
Re-stuff pillow covers with plump feather/down inserts. Size up two inches for a plumper look (for example, use a 20-inch insert in an 18-inch cover).
SLIPCOVERS & REUPHOLSTERY

Slipcover a chair or sofa for about half the cost of reupholstery.
If your furniture is in good condition, slipcover the back or seat cushions in a coordinating fabric.
Add nailheads to upholstered furniture -- they're especially handsome with plaids and solid textures (chenilles, velvets, faux suedes).
Add braid or ribbon to the skirt of a sofa, chair or ottoman. This can be applied with a glue gun.
TABLES AND SKIRTS

Have reversible tableskirts made for two looks or different seasons.
Purchase an inexpensive particleboard table and cover with a glamorous tableskirt. You're the only one who will know your secret. Tables are available at Calico Corners - Calico Home. Some do double duty, providing storage with hidden shelves.
Skirt a round table and have a glass mirror cut to fit the top. The mirror will add light and shimmer to a dark corner.
Skirted tables don't have to be round. Rectangular and square tables can also be skirted. Add details, such as tabs to accent pleats, for a custom touch.
Add a fabric table topper to disguise scuffed furniture. Place the topper at an interesting angle for more impact.
WINDOW TREATMENTS

Add a swag to stationary drapery panels. Or add a triangular scarf swag, knotted and attached to the pole at each side. Use two coordinating fabrics back-to-back.
Make flat panel draperies, cuff draperies and rod pocket draperies out of two fabrics sewn back-to-back for a reversible spring-summer/fall-winter look.
Install one stationary drapery panel on the side of a window to add color and softness at half the price.
Add trimmings to existing drapery. Some braids, ball fringes or tassel trims can be applied with a glue gun if you're not a whiz with a needle and thread.
Add sheers beneath existing drapery panels to soften the light and prevent furnishings from fading.
Update drapery hardware -- it can make the whole room look better. Add decorative holdbacks or tassel tiebacks to existing drapery panels.
Upgrade tired mini-blinds with woven wood blinds that add texture and warmth to your room.
DECORATIVE ACCENTS

Add a textured throw to the end of your bed or fold it over the arm of your sofa. Make it reversible for multiple looks. This is a great way to add pattern and a fresh accent color to a room.
Add an upholstered folding screen and matching pillow to a room that needs punch. Screens are great for filling empty corners or hiding clutter or exercise equipment.
Re-hang your art -- even museums move paintings. You'll see your art with a new perspective when it's in a new location.
Cover a bulletin board with pretty fabric and diagonal bands of trim to bring color to your wall. Or buy a great used frame and paint it; then have a bulletin board cut to fit, cover with fabric and set in the frame. This will warm your home office and make it less corporate looking.
Paint is the accent that provides the most bang for the buck. Use color to make a statement -- perhaps not on every wall. It's best to select wall paint using a fabric you love as inspiration. Then you can add the pillows or drapery panels to complete your transformation as money and time allow.
Line the back of glass cabinets in a fabric that pops. It will showcase glass and china and add unexpected color.
Add "sculpture" to a room with shapely occasional tables -- they're a handy place for a drink or the remote. Or replace your tired coffee table with a tufted fabric ottoman that is utilitarian and beautiful.
Cover an old wastebasket with decorative fabric. Use a spray adhesive to secure the fabric to the container -- then add gimp or braid trim with a glue gun to hide the edges.
Hang key tassels on lamp switches, armoires, dressers or desks for a decorator look.
BEDDING

Make reversible bedding -- or combine a light coverlet for summer with a duvet for colder months. Place the item not in use at the bottom of your bed for added color and occasional extra warmth.
REMOVE

Take out clutter -- it won't cost a thing and can make a major difference to the look of your home. Donate unwanted furnishings and accessories to adult children, friends or thrift shops, or sell on auction sites to start your next redecorating fund.
Calico Corners - Calico Home stores provide expert decorating advice and free in-home design consultation in more than 100 stores across the country. Consumers will find thousands of designer fabrics for the home at value prices; custom window treatments, blinds and shades; custom upholstered furniture and more. Thousands of fabrics are available online. For more information or to find the nearest store, visit http://www.CalicoCorners.com or call (800) 213-6366.
###