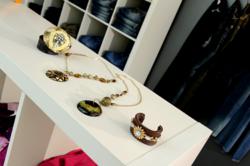 We will be making pairing suggestions for the delicious honeys and cheeses we have coming
Benicia, CA (Vocus/PRWEB) May 11, 2011
Benicia's beloved Honey and Cheese Pairing Festival is an annual fundraising event where participants get to sample the finest local cheeses and honey for a good cause. This year's festival will be held on Saturday, May 14th from 6 to 9pm under the shared new roof of Shirocos and Piccolo, two downtown stores that recently moved to 216 First Street, along Benicia's beautiful waterfront. Tickets are $25 and can be purchased at the stores or online via http://ArsenalSwim.com. Donations for the tickets and all funds collected through a silent auction and other activities during the evening will be used to help support Benicia's James Lemos Community Pool to keep the pool and its swim programs afloat.
"The times are very challenging," noted Shirocos owner Erick Martinez. "And we know this is going to be important to get this great program some badly needed funds."
The more than 200 expected participants will be provided a complimentary glass of wine and be able to bid on silent auction items. Several honey and cheese purveyors have already committed to bring their goods, so it is expected that everyone will be able to try some dynamic new combinations of sweet and savory local pleasures. Two honey companies have already indicated that they expect to harvest a few gallons of the sweet treasure right in Benicia in the days before the event, giving participants the freshest honey they've ever tried. Music and other surprises will be offered as well. The event is restricted to people over 21.
"We will be making pairing suggestions for the delicious honeys and cheeses we have coming," said Shirocos partner and local foods enthusiast Allan Shore. "But one of the best aspects of this event is that people get to experiment with their own combinations. Many people don't realize the culinary potential of these simple and delicious gifts of nature."
The first honey and cheese pairing event in 2009 was a great success, and raised several thousand dollars for the Benicia Education Foundation. Since its first year, the event has had a major impact on Shore and Martinez. They have used the experience to collaborate on a book called Green Gold: Pairing the World's Honeys & Cheeses. It is the first publication of its kind, and will be available for purchase at the event. A portion of proceeds from book sales will be used to help the James Lemos Community Pool as well.
Shirocos features local, regional and national home and gourmet items to showcase area talents and the affordability of ideas from across the globe. Piccolo is one of Benicia's finest and most contemporary women's clothing boutiques. By joining forces, Piccolo and Shirocos believe they are developing a new kind of anchor store for small towns. Both businesses are active proponents of local shopping and community involvement projects. The stores are open every day at 10am and stay open until about 7pm (or later) most evenings.
"Everyone loves the fact that we have this gorgeous new location and they are looking forward to this event being a sign of more community activities to come," exclaimed Shore.
People Encouraging Parks & Recreation in the Community (PEPRC) is the supporting nonprofit and contributors will be provided the charitable nonprofit identification number upon request.
For more information on the Honey & Cheese Pairing Festival or the stores, please call Shirocos at 707-297-6452 or Piccolo at (707) 747-9321. Tickets are available at Shiorocs, Piccolo or the James Lemos Community Pool, or online at http://ArsenalSwim.com.
For more information about any of Shirocos' products or services, call them at (707) 297-6452 or visit them on the web at http://www.shirocos.com; read Shirocos' blog at http://artsyhipcool.wordpress.com/; become a fan on Facebook at http://www.facebook.com/shirocos; and follow them on Twitter @shirocos.
About Shirocos
Shirocos is a marketplace where people can discover local gourmet food from small producers. Their home decor products are handmade, raw and one-of-a-kind. They offer a breadth of products that bring quality, style, and the trends of the day to the home decor marketplace. They strive to create a unique product line that meets the needs of local retail customers, and products that create a desire in the customer to make their home a unique expression of themselves. Shirocos is artsy, hip, cool.
# # #