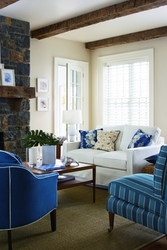 With savvy shopping, it's possible to renew your home without taking out a home equity loan!
Kennett Square, PA (Vocus) May 19, 2008
If the rooms within your view could use a lift, Calico Corners offers ten great ideas for redecorating that won't break the bank. They touch on window treatments, furniture, bedrooms and more. "With savvy shopping, it's possible to renew your home without taking out a home equity loan!" says fabric expert Jan Jessup of Calico Corners.
1. Rearrange your furniture. With the change in seasons, it's a perfect time to reorient your furniture. Don't make the fireplace the focal point in a living or family room. Turn the sofa to face a garden or beautiful outdoor view. If your furniture hasn't moved in years, rethink that arrangement and pull it away from the wall.
2. Pillows at play. Jessup suggests using your existing pillows and adding new covers in new colors. "Replace lots of little pillows with two or three larger pillows -- at least 18 inches in size. Larger scale sofas can take 20-22 inch pillows with ease," counsels Jessup. If your pillows match the sofa -- and came with it -- this is the first place to style up.
3. Work with a design consultant for an hour or two. This is actually quite affordable. Bringing a designer into your home for a consultation may help you see decorating options in a whole new light. The whole room doesn't have to be finished all at once. Start with the most important elements this year -- a new sofa, for example, or a new upholstered bed. Then add custom window treatments next year, and custom bedding or side chairs the third year. Develop a coordinated plan so that you don't get sidetracked along the way. The in-home consultants from Calico Corners will advise on custom window treatments, furniture salvation, color options and more for just a $75 fee.
4. Slipcovers can be major makeovers. A tired piece of furniture can be slipcovered for less than the cost of reupholstery. "A slipcover is like a new dress for your furniture -- it won't change anything inside, so it's not appropriate for furniture that needs new cushions or springs retied," advises Jessup. Slipcovers can be made to fit like a glove, or in a more relaxed style, depending on your preference and the style of the room. Slipcovers can be seasonal or not -- and can be used until it's finally time to reupholster.
5. Retire some accessories for the spring and summer months. Send some of your art, accessories or framed photos on a summer vacation. Lighten up your mantle, your coffee table, your display shelves and tabletops. The room will feel different, says Jessup -- and you may even decide to permanently retire some things at the end of the season.
6. Rearrange your art. How long have the same paintings or prints hung in the same place? Even museums rotate their art and freshen their rooms to keep visitors interested. Invite a friend over who has a great eye and have a hanging party to re-do your art and artifacts. Create gallery walls and get framed photos off tabletops to declutter.
7. Create a bed for the way you live. How do you use your bed? Do you read at night? Do you work in bed? Then you need great shams for back support, in addition to your bed pillows. Shams and pillows can also be boxed and stacked horizontally on the bed for a more modern look. Want two looks for the price of one? Custom bedding allows you to make reversible coverlets or duvets, with a different color fabric on the reverse side. Just flip the coverlet and your bed will look fresh and new.
If a dog shares your bedroom, consider a stylish dog bed coordinated to your room décor, or a slipcover for a dog bed that has seen better days.
8. Let the sunshine in. In warmer weather sheers or blinds can lift your spirits and welcome in the summer breeze. Sheers come in a wide variety of patterns, textures and colors these days -- there's nothing boring about your choices today.
9. Paint has a lot of impact for not a lot of money. You need not repaint the whole room. Take one wall and paint it an accent color that will add a striking visual note. For example, a room painted in linen white might have an accent wall in soft kiwi green…a rich mocha color…or a warm coral. Use a color that speaks to the other furnishings or art in the room, or coordinate with new pillows for a totally fresh look.
10. Finally, good quality furnishings are the best value over time. Yes, a sofa with eight-way hand-tied springs costs more than one from a big box store. But cheap furniture isn't worth reupholstering and will end up in a landfill in five years. Quality custom furniture costs more initially, but it is less expensive decade after decade.
Celebrating its 60th Anniversary in 2008, Calico Corners provides expert advice, decorating solutions and in-home design consultation in addition to quality designer fabrics for the home, trims, custom window treatments and upholstered furniture. For more information on Calico Corners products and services, or to find the nearest store location, visit http://www.CalicoCorners.com or call (800) 213-6366.
###