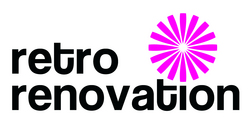 Today the number of products available to complement a midcentury home's original style are growing, because the interest -- and the need -- are there
Lenox, Mass. (Vocus) April 2, 2009
Buy granite countertops, or shine up the old laminate? Glass mosaic, or clean grout for the pink bathroom tile? New drywall, or keep the cherry paneling in the den?
In today's economy, owners of older homes are looking at their homes' original features in a new, more value-conscious light -- and tackling their home improvement projects starting with working what they have. At the same time, interest in midcentury homes is increasing. In response to this growing trend, RetroRenovation.com has launched additional features to help homeowners who are updating houses built in the 1940s, 50s and 60s.
"Even when money is tight, people want to continue with to improve their homes," says Pam Kueber, publisher of RetroRenovation.com. "The good news for owners of midcentury homes, is that preserving and playing up the design of your home's retro features is not only frugal, the look is also in sync with the times -- unpretentious, comforting and stylish."
There were more than 30 million midcentury homes built all across North America from 1946 through the 50s and 60s. "A new generation of buyers is quickly growing to appreciate that even the smallest of these homes can have a special charm. They also are discovering that updates that complement a home's era won't seem dated and can be a smart investment," Kueber adds.
Jeanne, of Dearborn, Mich., found RetroRenovation.com searching for ways to clean bathroom tile in the 1952 home she bought late last year. "I've noticed a trend with my home buying experiences," she said. "This is the fourth house I've owned in my adult life and each home was built in the late 40s/early 50s and purchased from the original owners. None of the homes were extensively updated, either, and had most of the original interiors intact. This home needs quite a bit of updating, and since I love midcentury modern, this blog is helping me get ideas and resources for hardware and more."
Another reader, Linda of Ottawa, Ontario, explains, "I plan to renovate my parents' postwar (circa 1947) Victory home later this year, mainly to increase its energy efficiency. I feel that these houses haven't gotten a lot of respect, and that's a shame because I think they represent an important part of our history. The blog has given me lots of ideas to do my parents' little house proud."
Readership of RetroRenovation.com has doubled over the past five months, and the site now reaches 50,000 readers monthly, Kueber says. There are more than 1,000 articles, with the site focusing on products and ideas suitable for a retro kitchen, retro bathroom and other spaces. The site also features readers and their homes, midcentury collectibles like furniture and lighting, and a forum to connect buyers and sellers of vintage steel kitchen cabinets. The latest update adds new pages and photo galleries and improved navigation.
"Today the number of products available to complement a midcentury home's original style are growing, because the interest -- and the need -- are there," Kueber says.
Facts about postwar homes:

While many people associate ranch homes with this period, colonial and Cape styles also were very popular, and split levels started to appear by the mid-1950s. Most often, homes were a mix and match of styles both inside and out.
Postwar homes were often no more than 1,000 s.f. in size. While small by recent standards, this compact footprint appeals to many homeowners interested in living in a space that consumes fewer resources. These homes also are often located in America's first "freeway suburbs" closer to urban cores, meaning a shorter commute and lower fuel costs.
###