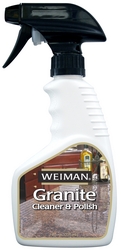 We've seen some emerging trends over the past five years that are here to stay
Chicago (Vocus) March 31, 2009
The abundance of home improvement stores and do-it-yourself TV, radio and internet programs makes simple remodeling projects within every homeowner's reach. With spring cleaning just around the corner, home improvement guru Danny Lipford teams up with the premium surface care experts at Weiman Products to provide quick, simple tips to care for premium surfaces like stainless steel, granite and smooth top ranges.
"We've seen some emerging trends over the past five years that are here to stay," says Danny Lipford, Host and Executive Producer of Today's Homeowner with Danny Lipford. "The popularity of glass and ceramic cook top ranges continues to grow. Natural stone surface countertops, like granite and quartz, paired with modern, energy-efficient stainless steel appliances, instantly revitalize any kitchen. These surfaces remain the top choices for both new and remodeled kitchens."
Stainless steel, granite and glass/ceramic smooth top ranges are highly durable; however, they remain vulnerable to daily wear and tear in high-traffic areas like the kitchen. Protecting and preserving the beauty of these surfaces requires proper care with the right products.
#1. Stainless Steel
Homeowners love the classic, modern look of stainless steel but become frustrated with fingerprints and smudging. Using a quality stainless steel cleaner, like Weiman® Stainless Steel Cleaner & Polish, leaves the surface streak-free and brilliantly shiny while giving it an invisible protective finish that resists fingerprints, water marks and grease. The surface care experts at Weiman suggest wiping in the direction of the natural metal grain to achieve the best results when cleaning stainless steel or any metal.
#2. Granite & Stone Surface Countertops
Granite and stone surface countertops, like marble and quartz, are smart investments but require proper care and regular maintenance to prevent staining, fading and discoloration over time. Because natural stone is porous, Lipford advises homeowners to wipe up spills and foods quickly with a specialized cleaner, like Weiman's new Granite Cleaner & Polish spray. Never use products that contain ammonia on stone surfaces since ammonia can weaken the countertop's seal, resulting in dulling and fading of the surface. Every few years, use a professional service to seal your stone countertops for ultimate protection and a glossy, luxurious shine.
#3. Glass/Ceramic Smooth Cook Top Ranges
Although prone to spills and burned-on foods, glass/ceramic smooth top ranges are easily maintained with proper cleaning. Steer clear of harsh, abrasive chemicals that can scratch the delicate cook top surface. To keep your range looking beautiful, or to bring an older range back to life, use a gentle, specialized cleaner like Weiman® Glass Cook Top Cleaner. It's unique, protective qualities keep food from sticking and give glass a silky shine. For tough jobs like removing heavy, burned-on residue, it's crucial to have the right tools on hand. Weiman® Cook Top Scrubbing Pads do the job right and won't scratch the surface.
"Whether you're learning how to care for new furnishings or simply protecting what you already have, using surface-specific cleaning products is the key to preserving their natural beauty and luster," says Lipford. "The folks at Weiman have revolutionized the art of cleaning and caring for premium surfaces, taking the guesswork out of spring cleaning while making it easier for homeowners to beautify their biggest investment - the home."
Danny Lipford
Danny Lipford, a veteran remodeling contractor, is an expert on homes and home improvement. As Host and Executive Producer of the nationally-syndicated television show, Today's Homeowner with Danny Lipford®, Danny helps viewers keep up with the latest home trends and understand the steps and products involved with both small and large home projects. Learn more about Danny by visiting his website at http://www.dannylipford.com/.
Weiman Products
Weiman® Products, LLC manufactures premium cleaning and polishing products for specialty surfaces throughout the home. Weiman brands include: Weiman® Premium Surface Care Products and Wright's® Metal Care Products. Weiman products are available nationwide through mass merchandisers, grocery stores, hardware stores and specialty retail outlets. Products are also available through Weiman's website (http://www.weiman.com) or by phone (888.281.6400).
###