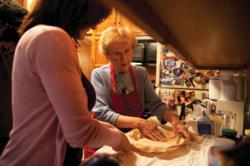 The Craving Companionship recipe contest gives family caregivers the opportunity to share that favorite recipe with other families like their own.
Omaha, NE (PRWEB) July 19, 2011
Family caregivers often find themselves craving that special dish Mom used to make. As it turns out, Mom could be yearning for that favorite meal as well. And, according to research conducted for the Home Instead Senior Care® network, she may be missing mealtime companionship just as much.
These days, because of the effects of aging, an elderly parent could be spending less time cooking. That's why it's time to get back in the kitchen, and what better incentive than a contest. The Craving Companionship(SM) recipe contest gives family caregivers the opportunity to get Mom or Dad's recipe box and share that favorite recipe with other families like their own.
What's more, they can tell the story behind that special recipe. Perhaps that much-loved recipe was even better the time Grandma added a wrong ingredient. Or maybe the dish was passed down the generations from an immigrant ancestor. Stories can be funny, poignant, or simply fond memories. Recipes can be submitted between July 15 and September 15, 2011.Then between September 16 and October 7, 2011, consumers can go to the contest website to vote for their favorite recipe. First prize is $500 for the winner to host a special home-cooked meal for family and friends.
The recipe contest is part of the Craving Companionship public education program, launched to help seniors stay connected socially and eat more nutritiously. Selected recipes and stories will be posted on the Craving Companionship web pages as well as in a cookbook – Homemade Memories(SM) – that will be available for purchase prior to the 2011 holiday season. Proceeds from the cookbook will go to the non-profit Home Instead Senior Care® Foundation to benefit seniors in North America.
The program was created to address the findings of research conducted for the Home Instead Senior Care network that revealed that the biggest mealtime challenge for older people who live alone is lack of the shared family experience including companionship. What's more, an overwhelming majority of seniors (85 percent) say that having someone to share their meals makes mealtimes more satisfying for them, according to the research. In addition, nearly one-half (48 percent) say their mealtimes are more satisfying if they have someone else prepare their meals.
"Many seniors need help planning and preparing nutritious meals," said Jeff Huber, President and Chief Operating Officer (COO) of Home Instead, Inc., the franchisor for the Home Instead Senior Care network. "But that's only part of the story. So many seniors want to relive a time around the dinner table when they are sharing their lives with the people they love most. Home Instead Senior Care network research reveals that seniors who live alone want good-tasting, nutritious food and stimulating conversation when they share home-cooked meals with family and friends."
The program offers family caregivers tips and practical advice from the Home Instead Senior Care network and National Association of Area Agencies on Aging to encourage companionship and easy healthy meals.
About Home Instead Senior Care
Founded in 1994 in Omaha by Lori and Paul Hogan, the Home Instead Senior Care® network is the world's largest provider of non-medical in-home care services for seniors, with more than 900 independently owned and operated franchises providing in excess of 45 million hours of care throughout the United States, Canada, Japan, Portugal, Australia, New Zealand, Ireland, the United Kingdom, Taiwan, Switzerland, Germany, South Korea, Finland, Austria, Italy and Puerto Rico. Local Home Instead Senior Care offices employ more than 65,000 CAREGivers(SM) worldwide who provide basic support services – assistance with activities of daily living (ADLs), personal care, medication reminders, meal preparation, light housekeeping, errands, incidental transportation and shopping – which enable seniors to live safely and comfortably in their own homes for as long as possible. At Home Instead Senior Care, it's relationship before task, while continuing to provide superior quality service that enhances the lives of seniors everywhere.
###