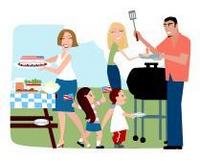 Norwalk, Conn. (PRWEB) May 30, 2008
Block parties are a great way to tighten the bonds of the community and create memories for children and adults alike. Home Savings Mall (SM), a leading discount membership program offered by Adaptive Marketing LLC, reports that throwing a block party is not as hard and complicated as people might think. It requires planning and teamwork, but with those two elements, half of the work is completed.
"Planning" is the key word for a successful block party. One person can act as the "supervising leader," while other neighbors take care of specific tasks, such as "food commissioner" or "entertainment chief", etc. The goal is to have people handle tasks they know or like, so they can enjoy the planning process and willingly cooperate when needed.
Plan a block party that everyone will remember, and have fun while doing so, with these practical recommendations brought to you by Home Savings Mall:

Set the date. Saturdays are the ideal day of the week, and the following Sunday could be the perfect rain date. Some experts recommend having the party just before or during the first or last week of school, when most of the families aren't out of town on a summer vacation. Others recommend scheduling the event to coincide with a national holiday, when everyone is in a festive mood. One block party a year is the ideal frequency.
Get the permits. Permits aren't needed if the block party will be held in different backyards of the street, but if the plan is to block off the street, permits are necessary. Visit the town hall or contact the local police to find out all the requirements. Usually, once the permit is granted, the block party can be held at the same location every year. Remember that the organizers are responsible for setting up and taking down the barricades and for all security measures.
Delegate responsibilities. Recruit old and new neighbors (a great way to break the ice), and create task forces of three or four people per activity. There should be a group of people working on each of these areas: food and beverages, entertainment, logistics and advertising. (The last group can also be in charge of getting sponsors for food or entertainment activities, such as a music band, bounce houses, etc.)
Set up and take down. People usually forget these two pieces of the puzzle, which are vital to the success of any block party. Trash receptacles should be placed all over the area of the party to make the clean-up process much easier. Other important tasks to keep in mind are traffic logistics and the control of the distribution of alcoholic beverages.
Block parties are a bigger success when the entire neighborhood participates. Send invitations, get people excited, and be sure to look for ways to save on party items, suggests Home Savings Mall.
About HomeSavingsMall:
Home Savings Mall is a leading membership discount program offered by Adaptive Marketing LLC. Headquartered in Norwalk, Conn., Adaptive Marketing is a category leader in membership programs, bringing value direct to consumers through an array of benefits in healthcare, discounts, security, personal property and personals. Members may access their benefits at HomeSavingsMall.com. With broad online and offline distribution capabilities, Adaptive Marketing offers its corporate client partners effective tools to enhance market presence, strengthen customer affinity and generate additional value through programs such as HomeSavingsMall.
###