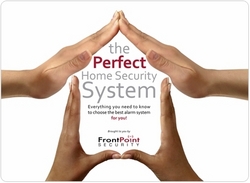 Knowing what questions to ask is essential when searching for peace of mind from your home security system. - Peter Rogers, FrontPoint Chief Operating Officer
Mc Lean, VA (PRWEB) September 9, 2010
Alarm systems sales are up, and it's no surprise – so are burglaries. But it's not just increased crime that is driving the increase in home security purchases. Today's' alarm systems can do more, and often cost less, than alarm systems from just a couple of years ago. Demand is growing for systems that are safer, smarter, simpler and more affordable than "old school" traditional systems that relied on a phone line, hard-wired sensors, and limited customer's ability to control the system only from home.
The explosive growth in the home alarm industry has brought in hundreds of companies looking for a quick return, often at the expense of consumers. There are over 13,000 alarms companies in the US alone, and many of them don't have the alarm experience or professional qualifications to sell and install the systems. The result is a spike in consumer complaints to unheard-of levels, generated by aggressive "door knocker" salesmen and some on-line offers that are, in fact, too good to be true.
According to Peter Rogers, security expert and Chief Operating Officer of FrontPoint Security, "It can be hard to tell the good guys from the bad guys, with lots of alarm companies trumpeting 'free' alarm equipment. These systems are typically anything but 'free', and often offer protection that is less than reliable with high monthly prices."
To help home security shoppers better understand their options, and to take the mystery out of a traditionally complicated industry, FrontPoint is proud to announce this new free Home Security eBook from FrontPoint, The Perfect Home Security System. This complimentary eBook highlights and discusses some of the key topics every consumer should know before purchasing an alarm system.
Here's just a sample of the topics in this new eBook:

Cellular Monitoring – why it's the only safe and reliable system
Wireless Sensors – the simplest and most flexible alarm sensor protection
Interactive Features – remote arm/disarm, text and email notifications, smart phone apps, even home video with remote viewing and motion-activated video clips
Fire and Environmental Monitoring – alarm systems should do more, without costing more
The Truth about Self-Installation – you really can do it yourself
What it Should all Cost – and the tricks to watch out for
This new complimentary eBook is intended to help consumers choose a home alarm system and is available free from FrontPoint Security. Download it today.
About FrontPoint Security:
FrontPoint Security is the leading nationwide provider of interactive, wireless alarm systems. FrontPoint Security combines next generation technology with unrivaled simplicity and an amazing commitment to service to create a truly unique customer experience. With customers in all fifty states, Canada and Puerto Rico, FrontPoint Security is one of the fastest growing alarm companies in North America. Founded in 2007, FrontPoint's management team brings more than 30-years of combined experience in the security industry. FrontPoint is a GE Security Authorized Dealer and Alarm dot com's Preferred Dealer for no-hassle security solution. For more information, please visit http://www.FrontPointSecurity.com or call 866-252-7630 / (866) ALARM 30.
###