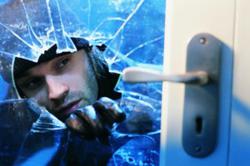 According to the FBI's Uniform Crime Reporting Program, 2006 saw an estimated 2.2 million burglary offenses, which means a break-in occured approximately every 14 seconds.
Atlanta, GA (PRWEB) December 04, 2007
Atlanta, GA (PRWEB) December 4, 2007 -- The Holiday season is meant to be a time to rejoice with family and friends, but while most people are getting into the holiday spirit, increasingly dedicated thieves find the season an opportune time to prey on homes, managing a residential break-in every 14 seconds nationwide. Amidst the hours spent shopping and the vacations to visit family, homeowners often leave their homes unattended during the holiday season. With some very quick and easy security preparations, people can prevent themselves from becoming the next victim of a burglary this holiday season.
Today, Jordan Frankel known as The Security Sensei and VP of Shattergard Inc., a leader in the security products industry and a residential security expert providing onsite home and business security assessments, offered homeowners the following simple and affordable tips to help keep their homes safe and secure during this holiday season.
Alarm Systems: During a majority of break-ins, burglars gain access to the home through unlocked doors or windows. In addition, many homeowners forget to set their security system. While making sure to lock the doors and set the alarm are the foremost priority in securing any home, homeowners do have other precautions they can take.
-- Alarm systems should be connected directly to the alarm company's central monitoring station, which can alert law enforcement if the alarm is triggered.
-- Installing a back-up cellular dialer in case a burglar cuts the power or the standard phone lines enables the system to still contact the monitoring station.
-- Alarm systems which incorporate motion sensors and/or glass break sensors can help first responders and residents know if an intruder has actually gained access to the premise.
-- Displaying the signage provided by the alarm company serves as an initial deterrent for thieves.
-- Making sure the alarm system's central panel is located in a locked cabinet or an indoor utility room prevents would-be invaders from tampering with the system.
Lighting: Sufficient lighting, both internal and external, can help deter thieves from even targeting a home. Burglars typically select a poorly lit home, as darkness affords additional cover from watchful neighbors or passers-by.
-- Motion detection lighting alone only activates once a thief's movement is detected; installing low-wattage dusk-till-dawn light fixtures, which emit a soft glow around the perimeter of the home all night, insures that thieves cannot conceal themselves in the shadows. The addition of sensors that shut off the lights when the sun rises and energy saving fluorescent or sodium-type light bulbs makes this an affordable and effective light deterrent.
-- Using basic timers for interior lamps set to alternating times, gives the appearance of movement throughout the house while it is unattended.
Doors and Windows: With some very simple window and door locking systems, homeowners can drastically restrict the accessibility of their home. With recent advances in locking mechanisms, some additional alternatives are also available to today's homeowner.
-- Installing window locks on all ground floor windows prevents the window from being opened far enough for someone to fit through.
-- The addition of a simple closet rod to the track of sliding glass doors provides reinforcement to the standard lock.
-- Biometric locks, which provide access by scanning a finger print, have become much more affordable lately and can prevent lost or stolen keys from being used by burglars.
-- Deadbolts with captive key locks should be installed on doors which abut windows. These locks feature removable thumb keys to prevent a thief from smashing a window and simply flipping the lock. Additionally, a second deadbolt installed on the bottom portion of the door is nearly impossible for a burglar to reach.
-- The glass in windows and doors can very often be a point of weakness as well. Security window films such as http://www.shattergard.com are affordable, and can provide an extra layer of defense from thieves attempting to smash a window to gain access to the home. While a burglar may be able to muster enough force to eventually smash the window, the repeated attempts require a lot of attention-grabbing blows. Assuring the home has proper doors made from solid wood or metal with an OnGARD door brace installed, rather than a hollow-core style, along with 3.5 inch long steel screws to fasten the hinges to the door frame, will stand up to most breach attempts.
-- The ability to see the outside of an exterior door is also very important. If an abutting window cannot provide a view of the doorstep before opening it, a peep hold can easily be installed.
Landscaping: Believe it or not, appropriate landscaping can help deter intruders from accessing windows, while maintaining an aesthetic appeal.
-- Keeping trees and bushes trimmed back from the house and windows diminishes the likelihood of an intruder using the shrubs as cover. Tree limbs should also be trimmed, to prevent an intruder from using a tree to access a second story entry point.
-- Planting low-growing sharp or thorny bushes such as holly, rose shrub, or barberry under windows, or adding gravel or landscape rock which makes for noisy footing, are also good ways to deter thieves from attempting to gain access to windows.
Secure the Garage: Garages are favorite targets for thieves, not only because they are often unoccupied, but because they often offer a direct and unlocked entry to the remainder of the home. A few simple countermeasures can help greatly deter an intruder's ability to access the garage.
-- Always keep the garage door closed; an empty garage or a missing vehicle can alert thieves that the home is unattended.
-- Change the factory set codes on the door's remote control often, so thieves cannot open the door with a store bought remote.
-- Adding motion and glass break sensors to all windows in the garage will also provide added warning of an attempted break-in.
"According to the FBI's Uniform Crime Reporting Program, 2006 saw an estimated 2.2 million burglary offenses, which means a break-in occured approximately every 14 seconds." said Mr. Frankel." "By following some very simple rules and making some very affordable additions to home security protocols, homeowners can drastically reduce the likelihood of a burglary ruining this holiday season."
About Shattergard Inc.:
Founded by security professional Jordan Frankel in 1995, Shattergard Inc. is one of the largest privately held glass protection and security product companies in the United States. Shattergard products are trusted to protect the men and women of the U.S. military, law enforcement community, as well as facilities associated with the worldwide banking and telecommunications industries. Shattergard customers include The United States Armed Forces, Nasdaq, the Hoover Dam, and even former Presidents.
Contact:
Mr. Jordan Frankel
ShatterGARD Glass Protection Films.
888-306-7998-14
###