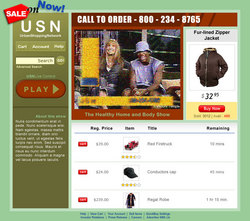 Music videos, expert tips, special guest star appearances and exciting trip giveaways will be integral parts of daily USN programming as well
Jenkintown, PA (Vocus) March 25, 2008
Urban Shopping Network (USN), the hip, new and exciting television home shopping program designed for today's trend-savvy consumers, is slated for launch on DIRECTV's Real Hip-Hop Network this Spring, recently announced show creator and Scooty Mack & M Fire Productions' CEO, McKinley Horton.
"This unique, fun, interactive home shopping experience will provide USN viewers exclusive offers, special deals, great bargains and money-saving closeout prices on the hottest trends in fashion, music, jewelry, books, wellness and so much more," says Horton. "Music videos, expert tips, special guest star appearances and exciting trip giveaways will be integral parts of daily USN programming as well," adds Horton.
Urban Shopping Network is geared up to feature thousands of products including vitamins, supplements and all-natural herbs, name brand fashions from 2Pac and South Pole, exclusive clothing from the Christopher Brian Collection, trend-setting Skyy fashions from boutiques like Aaliya Castro's Chic Bella, the latest music releases, sparkling jewelry collections, self-help books and more. Plus, innovative life-improving items such as 'Big Ox' canned oxygen and 'Cold Fire' fire suppressant and cool down agent will also be introduced.
Horton shares, "With money-saving Black and Platinum Card memberships and tremendous closeout prices on today's hottest products, Urban Shopping Network is focused on giving back to the community." "Now, it'll be easier than ever to Shop Hip-Hop and Get Status! USN is definitely not your mom's shopping network," states Horton.
For more details on the new Urban Shopping Network (USN), please contact McKinley Horton at scootymack2004@aol.com. Or, call 215-885-1625.
About Scooty Mack Productions
Famed music producer and songwriter, McKinley Horton, creator of Vanessa Williams' smash "Dreamin" and ''Gotta' Get You Home Tonight'', collaborator of legendary music producers Jimmy Jam, Terry Lewis, Organized Noise, Sleepy Brown & Outkast, TLC, Foxy Brown, Cee-Lo Green and countless other industry giants, and contributor to hit film soundtracks for "Shaft", ''Snakes On The Plane'', "Miami Vice" with Michael Mann and "Money Train", has teamed with burgeoning author, Lashana Spann, to create ''Scooty Mack & M Fire Productions'' (http://www.ScootyMack.com ). Through the ongoing introduction of inspiring messages via new music, films, television programming and literary works, ''Scooty Mack & M Fire Productions'' is on a mission to help create entertainment making for a better world.
###