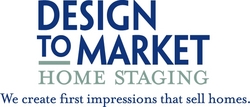 Today's home buyers are market savvy, and Internet smart
Cincinnati (PRWEB) December 17, 2009
Today's home buyers are using the Internet to preview homes, reports the National Association of Realtors. According to a recent study, 90% of buyers looked online at prospective properties with many beginning the home buying process online before contacting an agent. This change in the market is causing an increase in the use of Design To Market's home staging services as sellers realize the need to meet the expectations of today's competitive market.
"Today's home buyers are market savvy, and Internet smart," says Jo Potvin, owner of the Greater Cincinnati home staging company, Design to Market. "We know that first impressions sell homes. The key to a quick sale is putting your home's best foot forward every time—in person and online. You may only have one chance to motivate a potential buyer to leave their computer screen," says Potvin.
Since online first impressions rely completely on visual punch, Design To Market offers professional photographs after staging for agents to upload to the home's real estate listing. Pictures are featured that engage the buyer, highlight the home's features, and add a competitive advantage over their un-staged competitors.
As home sellers increasingly embrace the Internet as a platform for their listing, professional home staging has surged in popularity. "We stage homes at all price points," says Potvin. "Our warehouse of furnishings and home accessories allow us the flexibility to fill a large vacant property or augment a cozy starter home with just the right touches."
With continued low mortgage rates and the extension of the homebuyer tax credit, houses are selling at a healthy rate in the Greater Cincinnati market. Home staging not only brings in potential buyers who are making quick decisions by scrolling through multiple properties online but also shows the home to its best advantage once a buyer walks in the door.
Since 2004 Design to Market LLC has offered a complete range of home staging services in Cincinnati and Northern Kentucky. In today's competitive real estate market sellers are looking for ways to make their homes stand out from other available properties. Design To Market creates first impressions that sell homes. For more information or to view before and after pictures showing the results of recent home staging projects, visit http://www.designtomarketllc.com or contact Jo Potvin: (513) 265-0952.
###