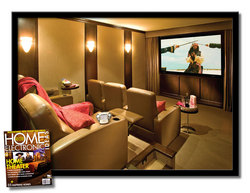 Best Home of the Year
Los Angeles, California (PRWEB) October 7, 2009
DSI Entertainment Systems has been recognized for exceptional design and installation in the following categories: Two awards were given for Large Home Theater, two awards for Integrated Home, and one each for Hidden Installation and Special Project. This is the 3rd year DSI Entertainment Systems has won CEDIA's Electronic Lifestyles® Designer Awards. DSI Entertainment Systems won the most awards of any custom audio video integrator for 2009.
Says Josh Christian, Vice President of Marketing, "We are honored to receive CEDIA's Electronic Lifestyles Designer Award. The competition is always tough, and it is nice to see industry peers and design professionals rate some of our home theater and home automation projects as best in class. DSI Entertainment Systems loves the challenge of working with creative clients, architects, and interior designers, and the innovative solutions that result truly give our clients great audio video and integration systems that are fun, practical, and easy to use."
Winners were selected by two qualified panels which evaluated submissions based on both the technical merits and the design/aesthetics. The technical panel consisted of five CEDIA residential electronic systems contractor members and the design panel included members from the American Institute of Architects (AIA) and the American Society of Interior Designers (ASID).
ABOUT DSI ENTERTAINMENT SYSTEMS
DSI Entertainment Systems is a leading electronic systems contractor for home theater, media rooms, home automation - smart home control - systems integration, and lighting control systems. They are a recipient of numerous awards, including the Consumer Electronics Associations' TechHome Mark of Excellence Platinum Innovation Award, Electronic House's "Best Home of the Year" Award, Creston's "Best Integrated Home System", "Most Creative User Interface", and "Most Extreme Makeover" Awards, Robb Report magazine's "Ultimate Screening Room" Awards, CE Pro's Top 100 and CEDIA's Electronic Lifestyles® Designer Award.
For more information about DSI Entertainment Systems and the services they offer, contact Josh Christian at 818.391.3061 or write to 653 No. Robertson Blvd. West Hollywood, CA 90069. Visit http://www.dsientertainment.com .
###