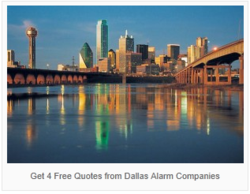 Dallas, TX (PRWEB) June 30, 2011
A new resource is now available in the Dallas / Fort Worth Metroplex that helps homeowners connect with Texas alarm companies throughout DFW in areas such as Dallas, Arlington, Fort Worth, Irving, Plano, Garland, Denton, McKinney, Richardson, Grapevine, Carrollton and more.
DallasAlarmCompanies.com keeps home and business owners from having to search through the Yellow Pages, perform countless Google searches or call multiple alarm companies to get a quote based on their specific needs. We take the guesswork out of comparison shopping for a security system with our simple quote form designed to make the process easier and faster on the internet.
If a home or business owner needs a quote for a security system, they simply fill out a short quote form. They are immediately matched with up to 4 local providers and usually within minutes will start receiving emails and phone calls from selected alarm companies in the Dallas / Fort Worth Metroplex. These security companies can provide a wide range of security systems such as home alarm systems, business security systems, card access systems and security camera systems.
Our model helps drive aggressive pricing through healthy competition. The service is offered for free while security providers pay a small fee to help support the program.
To learn more about Dallas Alarm Companies or to receive free security system quotes, please visit: http://www.DallasAlarmCompanies.com
About DallasAlarmCompanies.com
DallasAlarmCompanies.com is an online shopping service for the security industry. Our service will put you in touch with top alarm companies that can provide you with instant quotes for home alarm systems, home automation, business security systems, card access control systems and security surveillance camera systems. This solution is part of the NitroQuote platform which operates similar local and national shopping sites such as http://www.HomeAlarmsIn.com, http://www.TexasSecurityCompanies.com and http://www.FloridaSecurityCompanies.com.
###