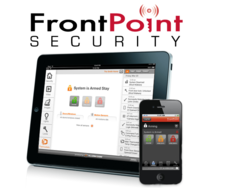 ...FrontPoint offers services that reign supreme for the current decade...
Chicago, IL (PRWEB) November 27, 2012
FrontPoint security has been ranked the "best" provider of home security solutions on the market by HomeSecuritySystems HQ, a leading online security reviewer.
FrontPoint offers services that reign supreme for the current decade. Their systems are up to date and technologically advanced. But HomeSecuritySystems HQ has considered several other factors. Customer service is the top concern, followed by consumer reviews, terms and conditions, flexibility and transparency and as well as benefits and bonuses.
Customer Service
When it comes to customer service FrontPoint has set new standards. They won the Angie's List Super Service Award in 2010 by offering customer service that was ranked outstanding. The support offered to customers was friendly and reliable to say the least and calls were answered in a timely manner. The staff offers a great deal of knowledge and they work hard to solve any issues.
Online Reviews
Yelp gave FrontPoint 5 stars and this has been the first company to receive such a rating. Yelp has become a top level review site on the internet. The BBB has also given FrontPoint an "A" rating.
Wireless Equipment and Cellular Monitoring
FrontPoint has ensured that their system offers customers the latest in wireless and cellular equipment and monitoring. FrontPoint has taken the time to make sure these features are present to benefit their customers since this type of technology can provide endless opportunities to give your home the protection it needs. Thanks to cellular monitoring, customers have the ability to receive text messages and they can disarm their home alarm while watching live video as well.
30 Day Trial Period
FrontPoint offers its customers a 30 day trial period and a money back guarantee. This is something not many other companies are doing and this allows customers enough time to try the product to see if they are satisfied with it or not. For the most part, customers continue using the services and are satisfied with their subscription. This company has the lowest rate of returns and unsatisfied customers in the security industry.
Environmental Monitoring
FrontPoint has also started offering their customers with free monitoring of carbon monoxide, fire, smoke, and flooding as a part of their services.
Free FedEx Shipping
Orders are shipped the same day and are shipped free using FedEx as their preferred shipping service. There is also the option to have your order shipped faster.
Crash and Smash Technology
FrontPoint's control panel which is known as the Simon XT, is a lot different than the other version found on the market. There is a patented technology that is incorporated known as the Smash and Crash that allows for an added layer of protection and security to the system in case there's an intrusion. When there's an attempted burglary, the system ensures an alarm is sent to the monitoring station before it's damaged.
Contact
Interested parties and individuals can get a free, instant quote right here or can alternatively call FrontPoint direct at (866) 363 2035.