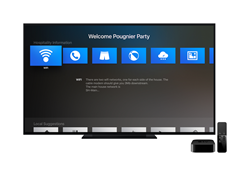 By using this amazing platform to bring HomeAway to the big screen, travelers can more easily discover the perfect vacation rental, and fully enjoy the home and their whole vacation with loved ones.
Austin, Texas (PRWEB) December 07, 2015
HomeAway, Inc. (NASDAQ: AWAY), the world leader in vacation rentals, today announces the launch of its Apple TV app, the first-ever in-app concierge service for the big screen, providing tailored information for guests staying in vacation rentals.
When deciding where to stay for an upcoming trip, travelers can use the Apple TV app to browse HomeAway's more than one million vacation rentals from the comfort of their own home. Once a family or group is enjoying their vacation in a HomeAway rental equipped with an Apple TV, they can access critical information on how to use the property. From Wi-Fi passwords to pool instructions, as well as owners' suggestions for dining and entertainment in the surrounding area, together the family can browse everything they need to know about their stay on a high definition screen.
"For more than a year, we've strived to do away with the often outdated, old-fashioned binders of information that are typically found in vacation rentals," said Tom Hale, HomeAway® Chief Operating Officer. "Already, hundreds of thousands of owners and property managers have created guides to the property and destination, and made them available to travelers through the HomeAway app for iPhone and iPad. Now, these owners can simply add an all-new Apple TV to their rental and create a beautiful, large-screen experience based on that same content that can be accessed by guests."
In addition to information provided by owners and property managers, the app includes recommendations for things to see and do from Gogobot, a one-stop travel planning website, as well as top restaurants in the area. Links to information about the property or recommendations for dinner can easily be sent to a traveler's iPhone via SMS from the Apple TV app.
"HomeAway leads the market in providing innovative vacation rental experiences on mobile devices and we're excited to now reach the millions of potential travelers who have already purchased an Apple TV. By using this amazing platform to bring HomeAway to the big screen, travelers can more easily discover the perfect vacation rental, and fully enjoy the home and their whole vacation with loved ones," added Hale.
HomeAway for Apple TV is now available for free on the App Store for Apple TV®. Meanwhile, HomeAway for iPhone complements the Apple TV app experience, providing the same information and serving as a resource that can be accessed before, during or after their stay. To download the HomeAway app for iPhone and iPad, visit the App Store. Owners and property managers can learn more about providing these concierge-like services to travelers here.
About HomeAway
HomeAway, Inc. based in Austin, Texas, is the world leader in vacation rentals, with sites representing over one million paid listings of vacation rental homes in 190 countries. Through HomeAway, owners and property managers offer an extensive selection of vacation homes that provide travelers with memorable experiences and benefits, including more room to relax and added privacy, for less than the cost of traditional hotel accommodations. The company also makes it easy for vacation rental owners and property managers to advertise their properties and manage bookings online. The HomeAway portfolio includes the leading vacation rental websites HomeAway.com, VRBO.com and VacationRentals.com in the United States; HomeAway.co.uk and OwnersDirect.co.uk in the United Kingdom; HomeAway.de in Germany; Abritel.fr and Homelidays.com in France; HomeAway.es and Toprural.es in Spain; AlugueTemporada.com.br in Brazil; HomeAway.com.au and Stayz.com.au in Australia; and Bookabach.co.nz in New Zealand. The Asia Pacific short-term rental site, travelmob.com, is also majority owned by HomeAway.
HomeAway also operates BedandBreakfast.com, the most comprehensive global site for finding bed-and-breakfast properties, providing travelers with another source for unique lodging alternatives to chain hotels. For more information about HomeAway, please visit http://www.HomeAway.com.