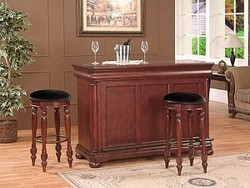 When are they throwing another party?!
San Diego, CA (PRWEB) December 21, 2008
Premiere Barstools is thrilled to present the newest traditional style wooden bar set of their collection, the Cherry Finished Bar Set with Matching Bar Stools. This classically beautiful cherry finish bar and matching bar stools will upgrade any home party from "Ho-hum" to "When are they throwing another party?!" This home bar set has many utilities, and comes with two matching backless stools. Should you need extra barstools, have no fear, you can always order more to add to your fantastic bar set.
This solid wood bar with a stunning rich cherry finish features elegant bun feet and a spectacular black granite inset countertop. Accenting these bold colors on the front of the bar is a charming antique brass metal foot rail. For convenient storage space for all your liquor, glasses and bar accessories, the bar comes with open center shelves, two accessory drawers and two cabinets. One of the cabinets comes with a lock in case you should need to lock anything away for safety. The bar also features a 6 glass stemware hanger. At a convenient size of 60"w x 22"d x 42"h, this bar set is easy to incorporate in most homes or businesses, and it is completed with two matching, backless bar stools. The stools come upholstered with black leather seats, and are perfectly matched to the bar with antique brass finished metal foot rings. The backless stools have dimensions of 14-1/4"w x 14-1/4d" x 42"h.
This classically appealing cherry finished wood bar set is just one of many new models that the Premiere Barstools furniture specialist offers on their website. Premiere Barstools is excited to add this beautiful bar and bar stools to their ever growing collection of unique bar stools, counter stools, and pub furniture online. This wooden bar set is also available for the special, because Premiere Barstools is extending the very popular free shipping on any bar set or purchase of four barstools or more in the continental U.S., and no sales tax outside of California special that they have been offering for the month of December.
About Premiere Barstools:
Premiere Barstools is the leading online source and retail site for bar stools, with dedication and a passion for finding and offering the best counter stools, kitchen bar stools, extra tall stools, outdoor stools, tables, and bars on the market today. With bar stools available in metal, wood, upholstered, backless, and contemporary designs in all colors and sizes, we are confident that our customers can find discounted bar stools, bars and tables that will be chic and beautiful additions to their homes or businesses. At Premiere Barstools, we only sell well made products, and we want our customers to be 100% satisfied with their new barstools, counter stools and tables. In order to make sure our customers are happy, we offer an unbeatable 30-day "no questions asked" return policy if they should be dissatisfied for any reason.
###