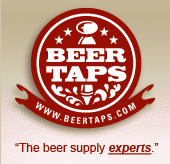 (PRWEB) September 08, 2012
For all those who slacked off and didn't get tickets to the upcoming Great American Beer Festival in Denver, you're SOL. Don't worry. Beertaps.com has things covered.
"There's nothing like a new taste in beer. The Festival is one way to sample what's on-the-horizon," says Michael Bauer, owner of Beertaps.com. "Why not kick things up a notch and create a Festival by brewing beer home? Better yet, talk to your friends and let them brew their own personal batch. Have an extravaganza of original beers from homemade brewmeisters you already know!"
Beertaps.com is proud to introduce its full new line of home-brew equipment for the beer enthusiast or weekend hobbyist. Their new line includes everything from all inclusive homebrew kits to a 5-gallon Home brewing Stainless Storage Tank.
Bauer details some of the secrets behind making great beer:
"Here are some tricks of the trade that can help during different brews to see which ones work best. Adjust brews each time so that a different taste can be achieved each time. That way soon a method can be found that works to create the perfect beer each time you brew.

First you always want to crush the grain just a little to let out the taste. This is not to crush them entirely, just enough to bust open the husks. It's easy to do with a rolling pin. Place the extract on the counter and cover with a towel or see through plastic.

Always boil the water for your brews. It's just like being in the military and making mountain water into wonderful fresh water that properly hydrates.

To steep use cheesecloth and string. Make a type of teabag. Pour the grain into the cheesecloth, tighten the ends and drop in the water before turning up the heat. When the grain is ready to be removed after reaching 160 degrees, it's easy to just pull it out of the water using the string. Let it sit after removing the extract for about 30 minutes. By the way, allowing the heat to reach 160 degrees is a judgment call that can be adjusted. Try 150 and different temperatures until your brewing becomes a great fit for your taste. Also, allowing it to sit for 30 minutes is another adjustment point. You can find different cooling times that might work better.

One of the most proffered ways is using an old keg. Cut the top off of one of the old kegs that can be found just about anywhere. It helps if to be a regular at a bar or know a bar owner."
Bauer concludes, "There are many ways to skin a cat. When brewing beer, its easy to find that there are thousands of different methods. Go back and forth. Don't be afraid to experiment. That's how the best brews in the world were made in the first place."
ABOUT BEERTAPS.COM
Of course, you don't have to have a bar to enjoy the many products we have for beer lovers like you. Beer taps in the garage. Beer signs in the den. Logo beer glasses for poker night. And of course, our famous Chuggler Mugs are just a few ideas of how you can make your home welcome for your fellow beer enthusiasts. We are proud to supply all of your Home Bar and Beer Tap needs including Beer Tap Handles, Beer Signs, Beer Mugs, Beer Glasses, Kegerators or Beer Meisters and Jagermeister Dispenser Machines. Anything to make a home bar your own bar, we have it.