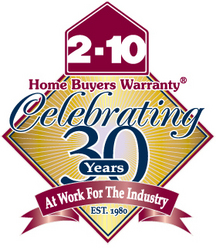 We're humbly grateful for the opportunity to help veterans and their families cope with life-changing injuries our Armed Forces members incurred while protecting our freedom
Denver, CO (PRWEB) January 22, 2010
As a means of launching its year-long 30th anniversary celebration, 2-10 Home Buyers Warranty® (2-10 HBW®) announced today a $10,000 donation to Homes for Our Troops, which builds specially equipped homes for severely injured veterans returning from Iraq and Afghanistan.
"We're humbly grateful for the opportunity to help veterans and their families cope with life-changing injuries our Armed Forces members incurred while protecting our freedom," said Mark Lewis, president of 2-10 HBW's New Home Division.
"Helping fund construction and renovation projects for Homes for Our Troops during our anniversary year is in line with 2-10 HBW's mission to support home builders, remodelers, real estate professionals, lenders and all of their homebuyers," Lewis said, in announcing the donation at the 2010 International Builders' Show® in Las Vegas, NV.
Homes for Our Troops has built specially designed homes for severely injured veterans in 23 states and has sites under way in four more. Using mostly donated materials and labor, the Massachusetts-based nonprofit organization has built and equipped more than 50 homes for needy veterans.
"We're extremely appreciative to 2-10 HBW for their generosity," said John Gonsalves, a general contractor who founded Homes for Our Troops in 2004. "When a company makes a donation like this, it makes a huge impact and it serves as an example of being a good steward, a good community citizen."
2-10 Home Buyers Warranty is the premier provider of new home warranty protection and leads the nation by providing warranties on over 3 million homes through 10,000 builders in 48 states and the District of Columbia. The warranty insurer for the 2-10 HBW program has paid approximately $197.5 million in claims on behalf of builders since its inception. The Denver-based company provides an extensive array of innovative warranty products, programs and services to meet the needs of its members and their homebuyers– including free sales support materials to help builders sell more homes.
For more information on:
2-10 HBW Anniversary Celebration: http://www.2-10Celebrates30.com
2-10 HBW Warranty Products, Programs and Services: http://www.2-10.com
How to Donate or Volunteer: http://www.homesforourtroops.org
# # #