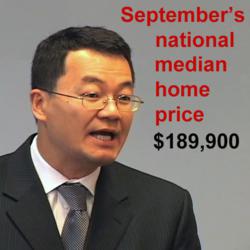 "Builders are responding to the rising demand for new homes as consumers begin to feel more confident about their local markets and put back into motion purchasing plans that were on hold during the recession." ~ Barry Rutenberg
Minneapolis, Minnesota (PRWEB) October 23, 2012
The sale of total existing-homes sold, consisting of completed residential single-family homes, townhomes, condominiums and co-op transactions, dropped 1.7 percent to a seasonally adjusted annual rate of 4.75 million in September, according to the National Association of Realtors (NAR) report. Even with an upwardly revised 4.83 million in August, home sales are 11.0 percent above the 4.28 million-unit pace in September 2011. That is up 11.3 percent year over year.
Home Destination's owner Jenna Thuening says, "We are hearing a tremendous amount of good news that supports a sustained housing recovery. It is encouraging many Minneapolis area residents to try to buy - and for too many, the annoying result is failing to qualify for a home loan."
Other notable improvements are good news in the NAR housing report include:
1.home inventory is decreasing, causing home price to increase. The supply of homes available for sale is now at 5.9 months, the first time in a number of years the number has dropped below 6 months. Total inventory stands at 2.32 million units.
2. Time on market has dropped to a median 70 days, with roughly a third of all sales closing in approximately 30 days. At this time last year, the median time on market was more than 100 days, nearly a third drop, meaning that the trend is positive.
3. The national median existing-home price for all housing types was $183,900 in September, up 11.3 percent from a year ago. The U.S. hasn't experienced seven consecutive monthly year-over-year increases since the time span from November 2005 to May 2006.
"Despite occasional month-to-month setbacks, we're experiencing a genuine recovery. More people are attempting to buy homes than are able to qualify for mortgages, and recent price increases are not deterring buyer interest. Rather, inventory shortages are limiting sales, notably in parts of the West. Lower affordability is not deterring buyer interest." reported Lawrence Yun , NAR chief economist.
The numbers for first-time home buyers remain at an even pace:
32 percent of purchasers in September 2012
31 percent in August 2012
32 percent in September 2011
The numbers for single-family home sales are 10.8% higher from a year ago:
1.9 percent decline to a seasonally adjusted annual rate of 4.21 million in September 2012
4.29 million in August 2012
10.8 percent higher than the 3.80 million-unit level in September 2011.
Were the median home prices stand in the report compared to one year ago:
The South was $163,600, up 13.1 percent higher.
The West was $246,300, up 18.4 percent higher.
The Northeast was $238,700, up 4.1 percent higher.
The Midwest was $145,200, up 7.0 percent higher.
The median existing condo price was $181,000 in September, which is 10.0 percent higher.
The median existing single-family home price was $184,300 in September, up 11.4 percent higher.
That is certainly firm data behind the "why" many U.S. citizens are trying to buy a home. NAR President Moe Veissi, broker-owner of Veissi & Associates Inc., in Miami, said some buyers who could easily afford a mortgage can't assume they'll get one. "Home buyers need to be more focused on the mortgage process in the current environment where lenders and banking regulators are being risk averse. Shopping for competitive mortgage terms is a good idea, but it may be more important to find a bank that is willing to work with you given your credit history. Realtors® can often recommend lenders that may have more reasonable underwriting standards."
If you or someone you know is ready to buy in the Minneapolis / St Paul area and would like to engage an experienced Realtor's expertise, fill out the Home Buyers Quote; Jenna will respond on a priority basis. The best home buying opportunities go quickly - to the fortunate home buyer who is well prepared ahead of time. Call 612-396-7832.