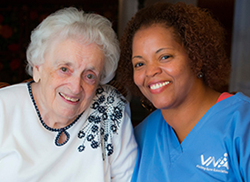 "Since many seniors with modest fixed incomes rely on Medicare to help cover the cost of their care, this proposal and others that target essential funding are very troublesome." explained Faith F. Scott, FACHE, President and CEO at VNANNJ.
(PRWEB) August 20, 2015
Home health care agencies, like Visiting Nurse Association of Northern New Jersey (VNA), provide critical services that allow the ill, disabled and elderly to receive medical care in the comfort of their home. As a result of a proposed policy drafted by CMS, home health care agencies and the senior citizens they serve are now placed in jeopardy.
In July 2015, CMS announced a proposed policy which contains two concerning components. The first being an additional reduction to the 14% rebasing adjustment in effect from 2014 - 2017, which CMS has publicly stated will cause "approximately 40%" of all home health agencies nationwide to operate at loss on or by the end of 2017. The second concerning component is the establishment of a Home Health Value Based Purchasing program in nine randomly selected states. The proposed payment withholding adjustment associated with this program is significantly more aggressive than other similar programs and the pressures associated with meeting the long list of performance improvement measures has the potential to negatively impact access to care.
For the 3.5 million Medicare beneficiaries who depend on home health care services, these proposed policy changes could seriously impact their health. The services provided by skilled and compassionate home care professionals are often unfeasible without support from Medicare.
Fortunately, a bipartisan group of lawyers have written a 'sign-on' letter for members of Congress, calling for the necessary corrections to be made to the CMS proposal before it is finalized. To urge your state representative to sign by Wednesday, September 2, 2015, visit http://bringthevotehome.org/take-action/.
On behalf of all those who benefit from home health care services, thank you for your support.
About Visiting Nurse Association of Northern New Jersey:
Visiting Nurse Association of Northern New Jersey is a nonprofit organization with a distinguished 116-year tradition of service. VNA provides home health care services in Morris and Hunterdon counties, including skilled nursing, physical, occupational and speech therapy, certified home health aides, hospice care, caregiver support programs, private care solutions and Friendship House, a social adult day care center. More information is available at http://www.vnannj.org or by calling 1-800-WE VISIT (1-800-938-4748).