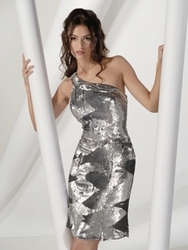 New York, NY (Vocus) September 25, 2010
Now that back-to-school mode has finally set in, it's time to set focus on Homecoming. This event marks an annual tradition where the opportunity to embark on a fresh or new beginning seems promising. So start the new school year off right with a shocking Homecoming dress from Jovani.
The wave of inspirational Fall Fashion has once again invaded New York and the Jovani 2010-11 Collections. Homecoming dresses no longer have to be limited or refrained to a sad simplicity. The new line of short and cocktail dresses satisfy a traditional appetite while exuding an ultra chic and contemporary sense. Mirroring off from the runway shows at Lincoln Center, the timely and fashion-forward quality of the Jovani brand transcends.
Don't be baffled by the phrase effortlessly beautiful. With the perfect Homecoming dress, there just isn't much more that needs to be done. Steal the spotlight and leave people talking for days with a grand entrance in an eye-catching, metallic ensemble. Opt for a sparkly sequin or a pastel floral print dress with subtle embellishments. No matter the style or preference, the extensive collection has something for everyone. There's just SO much to choose from.
To get started, think about the style and silhouette. Choose one that reflects a personal style and that will flatter the figure. Is it a short or long dress, high-low hemline, or poufy cocktail length? Think about colors that will look great, as well as photograph nicely. Once that is all figured out, it's time to play around with different fabrics. Luckily, fall fashion permits all different types of fabrics, from heavier draping to flowy chiffon or silk. This season is all about dressing for yourself, not the weather.
Shopping for the perfect Homecoming dress can be fun and invigorating. Avoid any stress or setbacks on the day of by planning ahead. It's never wise to leave the preparations up to the last minute. Homecoming is a time to share with close friends and it will be remembered for years to come. Make this event a truly magical one by going all out in Jovani. It's time to get noticed as the class fashionista this school year.
Company
The Jovani fashion house was created by a unique vision to give women a readily accessible line of designer eveningwear. Inspired by the high-fashion scene in Europe, Jovani offers a premier collection of couture designs that are chic and contemporary. The extensive collection features elegant dresses for Prom, Bridal, Evening, Pageant and Homecoming. The name has transformed into an internationally recognized brand that can be seen on the likes of A-list celebrities, and is featured inside the pages of high fashion magazines. No matter what the occasion calls for, Jovani is the ultimate destination for all your formal needs.
Contact: Lianne Gourji
Phone: (212) 279-0222 Ext. 111
###