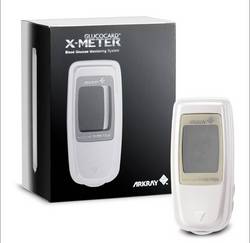 It is easy to see why people like this product. It is innovative, functional, and most people think it is an MP3 player.
Greenville, SC (PRWEB) February 27, 2009
For years, the diabetic community has been calling for a glucose monitoring system that is both functional and attractive. In recent years, many companies have developed smaller glucose monitoring systems, but until now, those systems required large blood samples and looked like toy phones. The new Glucocard X-METER from Arkray is what America's 23 million diabetics have been waiting for.
The X-Meter is designed with functionality, simplicity, and style. With its tiny blood sample size of only 0.3 microliters, the ability for alternate site testing, and a result time of only 5 seconds, the X-Meter saves your time and your fingers. The https://store.homedeliverymedical.com/iwwida.pvx?;item?item_no=750050%20%20%20%20%20%20%20%20%201&source=sc?comp=gmi [Glucocard X-SENSOR __title__ Blood samples drawn from the fingertips, forearm, upper arm or palm] is an auto-coded test strip that immediately turns on the meter eliminating the need for coding and buttons. This functionality is housed in a sleek white body that is nearly 10mm thick. With its bold look, large screen, and sleek profile, the X-Meter can easily be mistaken for an iPod.
Home Delivery Medical is an official Arkray Distributor and reports that the X-Meter is selling very well. Michael Laico, VP of Operations for Home Delivery Medical states, "It is easy to see why people like this product. It is innovative, functional, and most people think it is an MP3 player." Home Delivery Medical is considered to have the lowest prices on the X-METER Kit which includes the Meter, 60 Test Strips, Logbook, Control Solution, Lancing Device, 10 Lancets, and a carrying case. The X-Meter is free to those who are Medicare eligible and a professional staff is on-hand to process Medicare billing. The X-Meter can be shipped anywhere in America.
The medical industry is finally responding to the demands of the end user. While diabetics must continue monitoring their glucose levels, for once, they can do it in style. To find out more about the Glucocard X-Meter, visit Home Delivery Medical, or call 1-866-584-4038.
About Home Delivery Medical
Home Delivery Medical provides medical supplies, equipment, and home care health products focused on improving life at home. Shopping on Home Delivery Medical is reliable, economical, secure, and discreet. All orders for stock items placed before 4:00 pm EST are shipped the same day to anywhere in the nation. Medicare billing is handled by a well-trained and experienced staff, providing the maximum benefits and savings. With thousands of products and top brands available online and unparalleled customer service, Home Delivery Medical is the industry's premier source for online medical supplies and equipment. For more information, visit http://www.HomeDeliveryMedical.com or call toll free at 1-866-584-4038.
###