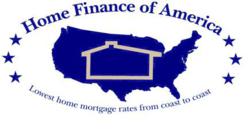 Plymouth Meeting, PA (PRWEB) May 16, 2012
Home Finance of America (HFA) has received an A+ rating from the Better Business Bureau (BBB). The Better Business Bureau is among the best sources for consumers to evaluate the trustworthiness of a business prior to engaging in actual commerce with them. An A+ is the highest rating that the BBB currently offers and the most difficult rating for a company to obtain through the BBB. To hold an A+ rating with the Better Business Bureau a company is carefully graded by the BBB on 16 factors ranging from complaint volume to advertising reviews. Home Finance of America's A+ rating with the BBB in today's demanding mortgage industry is a testament to the company's commitment to offer honest, dependable, and most of all, personalized service.
When a potential customer calls Home Finance of America they will be immediately connected with a loan officer happy to offer "live" assistance. All loan officers are fully licensed and educated in state lending laws through the Nationwide Mortgage Licensing System (NMLS). The NMLS is the highest and most strict level of company and individual licensure and requires the company's and the loan officer's full compliance and accountability with all state and federal laws and guidelines.
For quality control, every customer of Home Finance of America completes a survey at closing about their experience. This survey is carefully reviewed by management to ensure the highest level of customer service. Over 95% of customers indicated HFA and their loan officer was excellent on these surveys. Unlike other mortgage companies, Home Finance of America's loan officers do a better job setting expectations and educating their clients upfront.
Whether refinancing or purchasing a new home; selecting the right mortgage and the right mortgage company is a decision a homeowner will have to live with for a long time. Trying a mortgage lender without an excellent track record is a mistake that can turn costly. HFA's reputation, low mortgage rates, and A+ rating with the BBB meet criteria that must be considered when selecting a mortgage company.
About Home Finance of America:
Home Finance of America is a direct lender and will lock-in low rates for borrowers at any time they wish to apply. Mortgage applications are taken by phone. Licensed loan officers are available seven days a week by calling 1-800-358-5626.
Home Finance of America is headquartered just outside of Philadelphia, PA. The company has specialized in originating low rate residential mortgage loans to qualified borrowers since 1993. They are a national leader in online mortgage lending.