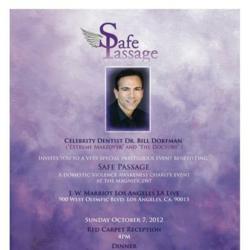 Los Angeles, CA (PRWEB) October 05, 2012
The HOME Foundation is proud to support the upcoming Safe Passage Gala on October 7th being held at the J.W Marriott in Los Angeles LA LIVE. The Safe Passage Gala will have a red carpet reception, silent and live auctions and dinner. Celebrity dentist Dr. Bill Dorman from television shows "Extreme Makeover" and "The Doctors" is proud to host this prestigious event to benefit the Safe Passage organization.
Frankie Verdugo, President of The HOME Foundation, when asked about Safe Passage said, "This organization is doing such great work in the area of domestic violence because they not only assist battered women with a safe haven but they also strive to transform these women by building their self confidence and providing hope for a better life."
About Safe Passage:
Safe Passage compassionately transforms abused women and their children to a new and better life by providing hope, opportunity and empowerment. Founded in the year 2000, Safe Passages vision is to break the cycle of domestic violence by duplicating their program throughout the country. This will be accomplished by introducing the program to different cities and educating them on how they can utilize the community's resources to help transform the lives of affected women and children.
About The H.O.M.E. Foundation:
The Helping Others Means Everything, or The H.O.M.E. Foundation, is a not-for-profit organization dedicated to helping our Family of Charities. Frankie Verdugo, President of The HOME Foundation, wants to help as many worthy charities as possible as they struggle during these tough economic times. Frankie Verdugo helps raise funds through luxury dream home raffles, home giveaways, prizes, and high profile celebrity events in Hollywood... "Our mission is to help charities reach their fundraising goals and to bring awareness to their praiseworthy causes."
The HOME Foundation
Frank Verdugo
855-288-HOME (4663)