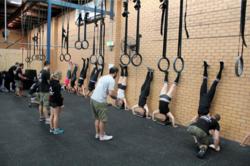 CrossFit have taken the fitness industry by storm, with no signs of slowing down
(PRWEB UK) 18 June 2012
Just when its seems that all the variations of workouts and classes have been discovered, something new always pops up and takes over. The past few years have been a breeding ground for new ideas, with Zumba being a huge release, becoming popular with many different people, with classes cropping up everywhere, not limited by the use of commercial gym equipment.
CrossFit has become a very strong influence more and more over the past few years, with classes here and there and the odd person talking about it. But now it seems to be everywhere, but what is the secret?
Firstly, CrossFit is a brilliant idea, which always helps; it focuses on high intensity training over a variety of dynamic exercises. Focusing separately on cardiovascular work and strength work, it uses a variety of pieces of commercial and home gym equipment to provide and full body workout in a very short period of time. All of this meaning that in a short time (around 20 minutes) there is a workout that leaves you fully worked and feeling good.
CrossFit as a company are also very clever about how they spread themselves around. By using a very virtual dominated approach, by updating the site with new workouts each day, meaning that there are always fresh new ideas for instructors to teach people. This leads to the teaching of it. By selling their name to some gyms and offering instructor training CrossFit has managed to get themselves imbedded with many different fitness cultures.
The way that CrossFit has set up means they can be ever evolving. There are different overall variations of CrossFit, for example, CrossFit Football. But there are also smaller variations which cater to the needs of specific groups, such as pregnant women, the elderly and even adaptations for military use.
By using home gym equipment people can even set up little CrossFit circuits and follow the daily workouts on the site.
Overall, CrossFit has imbedded itself into the circuit training scene. By showing openness and willing to accept ideas from others the company have continued to expand at a great pace. With the CrossFit games becoming ever more popular and the prizes becoming more and more lucrative, it looks as though it is here to stay.
Looking to start a CrossFit gym and need a selection of good commercial gym equipment? Then why not contact Health Clubs at Home? Leaders in providing new and refurbished gym equipment at great prices, Freephone now on: 08451 548 296 or visit http://www.healthclubsathome.com