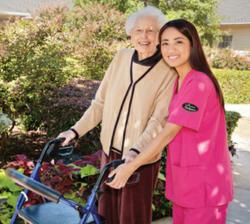 Our professional staff can help to ensure (clients) take their medications properly, coordinate their doctors' visits, and check their health signs such as pulse, blood pressure or glucose levels.
Cincinnati, OH (PRWEB) April 04, 2012
Home Helpers, the nation's No. 1 Senior Care franchise as determined by Entrepreneur magazine, has expanded its in-home care services to include medical services, too.
For 15 years, Home Helpers has provided personal assistance services such as meal preparation, transportation, bathing and dressing assistance and light housekeeping. With its expanded services, clients can take advantage of mediation management, medical care coordination and vital signs monitoring as well.
"This was a logical extension of our services," said Emma Dickison, president of Home Helpers. "We've grown exponentially across North America and now serve more than 600 communities. What we've found is that more and more people want to remain in their homes even as their health begins to decline. We can provide the assistance that helps them take care of themselves at home longer than would otherwise be possible."
Industry research supports Dickison's observations.
A report in The Journal of Applied Research found that 1 in 4 people admitted to nursing homes had difficulties related to the self-administration of medicine. Factors include failing to have prescriptions filled, taking someone else's medication, or simply taking their medicines incorrectly. Worse yet, the report said, about 125,000 people with treatable ailments die each year because of such errors.
According to Partnership for Solutions, led by Johns Hopkins University and The Robert Wood Johnson Foundation, about half of all Americans, live with a chronic condition such as heart disease or diabetes and, as the population ages, that number will increase. The Partnership's report states that among the general population, people with five or more chronic conditions have an average of almost 15 physician visits and fill more than 50 prescriptions in a year. Among those in the Medicare population, the average beneficiary sees seven different physicians and fills more than 20 prescriptions in a year.
"Obviously our medical assistance services can make a major difference in the lives of our clients who prefer not to move into a nursing home or an assisted living facility," Dickison said. "Our professional staff can help to ensure they take their medications properly, coordinate their doctors' visits, and check their health signs such as pulse, blood pressure or glucose levels."
Since January, participating Home Helpers franchises across North America have added these specific services:

Medication Management – A trained Home Helpers health care professional either can administer accurate dosages directly to the client or load the Direct Link automated medication dispenser thus ensuring the correct dosage of medication is provided at the correct time.
Medical Care Management – Registered nurses with Home Helpers coordinate and manage all physician visits and medications while observing the clients' overall health and well-being. Traditional Home Helpers workers can provide transportation and companionship on visits.
Vital Signs Monitoring – Clients can receive assistance in monitoring their chronic illnesses such as diabetes, congestive heart failure, hypertension or COPD through the trained professionals of Home Helpers who either can check the vitals or assist the client in using Direct Link's units.
"Monitoring chronic illnesses from home significantly reduces the time, money and doctor visits needed to live safely," Dickison said. "And our sister service, Direct Link, provides in-home medical alert devices and other mechanical monitoring devices that complement our personal services and further ease the concerns of clients and their families."
While Home Helpers services offer real options for seniors who want to age in place, those services also have proved beneficial to new and expectant mothers, people recovering from illness or injury, and individuals living with lifelong challenges.
"Our mission is to help make our clients' lives easier and maximize their independence," Dickison said. "These new medical assistance services simply extend the quality care we've been providing for 15 years."
To learn more about Home Helpers or to find a location near you, visit http://www.HomeHelpers.cc or call 800-216-4196.
Founded in 1997 in Cincinnati, Ohio, Home Helpers has become one of the nation's leading senior care franchises offering comprehensive in-home care services in more than 600 communities across the United States and Canada. Entrepreneur magazine ranked Home Helpers as the No. 1 Senior Care Franchise and, for the fifth straight year, "Best of the Best." To learn more about Home Helpers or franchising opportunities with the company, call 800-216-4196 or visit the company's website at http://www.HomeHelpers.cc.