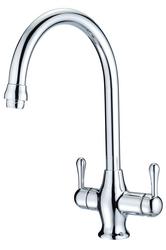 Our combination faucet options exemplify both.
Newbury, Ohio (PRWEB) June 17, 2008
Kinetico Incorporated , a leading water treatment provider and pioneer of water treatment innovations worldwide, is launching two new kitchen faucets with the ability to draw both filtered and unfiltered water from a single spigot. These new options eliminate the need for smaller dedicated faucets that often come standard with sophisticated drinking water treatment systems and require additional installation work and space at your sink while adding to home improvement costs.
Designed to enhance the look of any kitchen and facilitate ease of use, both provide stylish alternatives to the usual dedicated drinking water tap. One option features an elegant gooseneck design and uses a single pathway to deliver both filtered and unfiltered water. The other, a sleek, contemporary dual-spout option, delivers filtered and unfiltered water from two separate pathways to protect filtered water purity. Each can easily switch from delivering filtered or unfiltered water with the simple turn of the handle--the one on the left controls the filtered water and the right controls the unfiltered tap water.
"We have a tradition of innovation and a reputation for marrying form with function," says Kinetico CEO Shamus Hurley. "Our combination faucet options exemplify both."
Functionality was a top priority when designing these new faucets. When matched with Kinetico's QuickFlo technology, they produce a strong flow of water. In fact, water flow can be up to two times greater than what other drinking water systems on the market offer, even after several minutes of running the tap.
The launch of this new kitchen faucet is especially appealing to homeowners with hard stone kitchen countertops. The need to drill through marble or granite to install a dedicated drinking water system tap has posed concerns for some homeowners. Hard stone is very susceptible to cracking, making this type of home improvement more challenging and potentially pricier. The new combination options eliminate the need for dedicated drinking water faucets and additional drilling.
"These new kitchen faucets are not only stylish and easy to use, they also save on installation time and home improvement costs." Hurley adds.
The new kitchen faucets are sold through Kinetico's nationwide independent dealer network. Consumers can find their dealer by visiting http://www.kinetico.com/Locator/. Both the dual and single spout combination faucets are available in chrome and satin nickel finishes; prices will vary by dealer.
Kinetico Incorporated
Headquartered in Newbury, Ohio, USA, Kinetico is a leading manufacturer of water treatment systems. An extensive network of Kinetico dealers serving residential and light commercial customers has helped more than a million people in nearly 100 countries experience the benefits of better water. Since 1970, it has prided itself on creating unique water treatment systems that serve customers in an expanding variety of residential, commercial, industrial and municipal applications. The company also has offices and facilities in the United Kingdom, Canada, France and Denmark. Further information is available at http://www.kinetico.com.
###