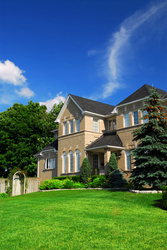 Our goal is to keep homeowners happy and rid the world of sub-quality service providers.
Seattle, WA (PRWEB) June 17, 2008
Max Sheppard and Michael Taylor say that home improvement projects are a proven strategy for home sellers who want to achieve the highest profits despite economic conditions. Sheppard and Taylor are the visionary entrepreneurs behind HandyAmerican.com, a free matching resource for homeowners and contractors. HandyAmerican.com is the latest region-specific site in the Sheppard-Taylor 'Handy' empire that includes sites serving Canada and Australia.
"Home improvements are still blue-chip investments for Americans even now with the mortgage crisis threatening the value of million-dollar properties and more modest homes," says Taylor. "It's been demonstrated time and again that renovations performed by qualified, licensed U.S. service providers can dramatically increase the asking price and the selling price of a property."
So while many Internet sites foster global connections, HandyAmerican.com is focused on making business matches that are literally closer to home. "We created HandyAmerican.com to bring neighbors together."
All Handy sites emphasize the value of working with 'the contractor next door.
Handy In The Kitchen and Bath
"A licensed contractor who is located nearby brings more than just his or her professional credentials to the table," says Sheppard. "Area service providers have specialized, regional knowledge that can help homeowners save on their projects substantially."
Local knowledge is particularly significant when it comes to laws that govern the two most profitable home improvement projects: kitchen remodeling and bathroom renovation. "Kitchen and bathroom renovations are the best strategies for bulletproofing the resale value of an American home today," reports Taylor. "The best way to ensure that things go smoothly is with a contractor who knows what to do to meet building codes, adhere to ordinances, and where to go for necessary permits."
Utilizing an innovative, automatically generated program with custom job posting and matchmaking capabilities, HandyAmerican.com connects property owners with contractors and service providers in their area "who are equipped and experienced to get the job done right."
The Contractor Next Door, Ranked and Rated:
Positioned as a full-service resource for homeowners, HandyAmerican.com provides unlimited, around-the-clock access to an extensive information database. 'Hot topic' are explored in articles on construction, renovation, interior design, landscaping, home repair and contractor hiring tips. "We also have a forum where consumers and contractors can converse regarding DIY projects, problems and other topics of interest," says Sheppard.
But the centerpiece of HandyAmerican.com is its free, searchable database of local contractors and service providers, and its powerful rating and ranking system. "We hope visitors to our site will use the 'stats' we provide to create a winning client-contractor relationship...and to warn others if things turn out differently."
HandyAmerican.com actively encourages homeowners to visit the site to post reviews and ratings of their experiences with individual contractors. Unlike some sites that have no vetting process in place for these comments, "We verify the legitimacy of each review then post it to the contractors profile for all other consumers to see and benefit from," says Taylor.
The reviews drive the rankings. A contractor who is consistently getting great reviews from clients is rewarded with greater exposure. Positive reviews translate into better ranking and better visibility for deserving contractors. Those contractors who offer expanded information in their profiles -- a services description, insurance certificates held, pictures, a logo, etc. -- can also improve their ranking.
"And negative reviews ensure that bad service providers get exactly what they deserve...and that's to be put out of business," says Sheppard. "Our goal is to keep homeowners happy and rid the world of sub-quality service providers."
Check Out The Comps:
Adding a deck is a popular choice across the country for increasing the selling price for a home, according to the 2007 Cost vs. Value Report issued by Remodeling magazine and REALTOR® Magazine. Replacing wood windows is listed as another high-impact improvement that translates into more money at closing.
But Sheppard is quick to point out that, "It's important to make improvements that are area-specific and in-demand where you are."
Depending on the location of a property and the demographic of potential owners, Taylor warns of the "one man's treasure is another man's trash phenomenon." When this occurs, "prospective buyers in a certain neighborhood view typically desirable enhancements as irrelevant, and they are unwilling to pay a premium for them."
As an example, Sheppard cites a neighborhood where families predominate. "When you've got a house filled with kids, a house-with multiple bathrooms is provides a lot more 'luxury' than a sun deck," he laughs. He also recommends improvements that aren't too radical in their concept or design. "You don't want to shrink the pool of potential buyers with changes that will appeal only to a limited number of people."
Both Sheppard and Taylor suggest that homeowners considering renovations look at 'comps' in their area. ('Comps' is short for 'comparable properties' and refers to other homes in a neighborhood. "This is one instance where keeping up with the Joneses...or at least what they're doing in their kitchen and bathroom...might not be such a bad idea," laughs Sheppard.
For additional information about HandyAmerican.com, to find a contractor, or to post your professional service offering, you may visit http://www.HandyAmerican.com.
Contact:
Max Sheppard
Handy American
800-958-1734
max(at)handycanadian.com
###