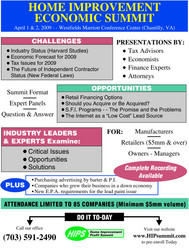 Fairfax, VA (PRWEB) January 14, 2009
The Home Improvement Economic Summit will be held April 1st and 2nd, 2009 at the Marriott-Westfields Conference Center located in Chantilly, VA. It offers an opportunity for manufacturers, retail home improvement companies and vendors to be informed on and discuss the major issues facing the industry today.
The summit will bring together leading economists, tax experts, authorities on retail financing, home improvement "law", and "new age" advertising methods. These experts will be interviewed by host/moderators. Much of the program will be presented on PowerPoint. All presenters and guest experts will respond to questions from participants. The entire summit program will be recorded.
Highlighting the presentation on the economy will be Dr. Robert Genetski, nationally acclaimed expert who will define current economic trends and explain the monetary components which create today's economic chaos. His presentation will contain projections for the forthcoming months of 2009.
Rick Strachan, Senior VP of Hanley-Wood Publishing (Remodeling - Replacement Contractor and others), will present the then-current status of the remodeling/home improvement industry based on the Harvard Studies.
D.S. Berenson, Senior Managing Partner of Johansen Berenson, specialist in home improvement law, will present issues of major concern facing the industry, including the new federal law proposed by Congressman Robert Andrews (D-NJ) regarding the future of independent contractor status. Congressman Andrews has been invited and either he or someone from his committee will present a synopsis of the proposed new law.
Dave Yoho, President of the oldest and largest consulting group representing the home improvement industry will act as host-moderator. He will be assisted by several co-host/moderators. Dave stated: "We will have some of the largest and most successful retailers from the industry both as attendees and participants in the panels. The intention of this conference is to present the issues and an analysis of the home improvement market for the first quarter while offering suggestions and opinions on how participants may augment their business plans for the final three quarters of 2009. Those attending will be given the opportunity to submit questions in writing or from the floor.
The summit will start with a dinner and reception on the evening of March 31st and continue for 2 days (April 1st and 2nd). Attendance will be limited to 85 companies. Retail home improvement companies must do $5MM annually to qualify for invitation.
The entire program will take place at the Westfields which is considered to be one of the finest conference centers in the US. All meals will be served in their extravagant dining facility. This will afford all participants the opportunity to interact with the other summit attendees to exchange information and otherwise network.
Additional information on the summit is available at http://www.HIPsummit.com or by calling 703-591-2490.
###