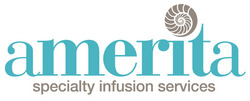 "Amerita's growth over the last three years can primarily be attributed to three things: right place, right time and the right people.
Irvine, CA (PRWEB) November 18, 2010
Amerita, Inc., a leading provider of specialty infusion services for patients outside of the hospital, announced today the company was named among the fastest growing privately held companies in Orange County, California. Growing from $25 million in revenues in June 2008 to $54 million in June 2010, the Orange County Business Journal ranked Amerita 18 out of 69 of the county's fastest growing companies.
The company reports, Amerita has grown to 12 home infusion pharmacy locations across the United States with more than 330 employees. Amerita's growth strategy has been to purchase small to medium-sized home infusion companies that have excellent clinical and service reputations or open new branches in select markets to increase the company's geographic coverage and ability to service patients across the country. Each location is managed locally to assure the highest level of responsiveness, quality and customer service.
"Amerita's growth over the last three years can primarily be attributed to three things: right place, right time and the right people. Accordingly, we made the calculated decision to acquire or build home infusion businesses in the top population growth markets of the country or in markets that were underserviced," said Jim Glynn, Amerita's founder and chief executive officer. "Our timing coincided with a consolidation trend in specialty infusion that was driven by providers' needs to expand their reach of service to improve access to care, as well as build scale and efficiencies. Finally, it has been essential to attract and retain the right people to build our company vision around. Our management team is made up of industry veterans who average more than 20 years of experience with much larger companies in the specialty infusion marketplace. Without them, we would not have attained this recognition."
Home infusion therapy services primarily involve the intravenous administration of medications that treat a wide range of acute and chronic health conditions. Medications are compounded and dispensed by local registered pharmacists and delivered to the home health care setting. Specialty infusion therapy is then administered and managed by registered nurses. Patients are generally referred by physicians, hospital discharge planners, home-health agencies and managed care organizations.
Amerita, Inc. http://www.ameritaiv.com is a privately held specialty infusion company focused on providing complex pharmaceutical products and clinical services to patients outside of the hospital. This market is expanding through a growing bio-pharmaceutical pipeline of infuseable and injectable medications, an aging population that requires additional health care services and the country's need to find more affordable care alternatives. Amerita is headquartered at 20 Fairbanks, Suite 173, Irvine, CA 92618. Phone: (949) 273-6528 / Fax: (949) 273-6547.
###