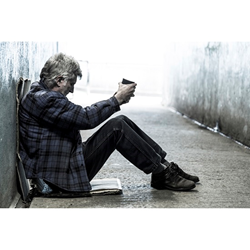 Many of us take food, medicine, childcare, and transportation for granted, but one in four families in our area considers them a luxury – we're continuing our work with Marion Matters to help reverse this trend
Marion, OH (PRWEB) October 17, 2016
The Rob Hyburg Agency, an Ohio-based insurance and financial planning consultancy headquartered in Marion County, and Marion Matters, a regional nonprofit organization, are extending the duration of a cooperative charity drive to provide for local homeless families begun earlier this year.
Marion Matters, Inc. is committed to providing education and support to families and individuals in the Marion County area in an effort to stem the growing effects of poverty in the region. Recent reports show that as many as 25% of Marion County residents rely on government support for food and healthcare, and Marion Matters provides residents with a full range of programs that help break the cycle of poverty.
"Many of us take food, medicine, childcare, and transportation for granted, but one in four families in our area considers them a luxury – we're continuing our work with Marion Matters to help reverse this trend," says Rob Hyburg, the owner and acting manager of the Rob Hyburg Agency.
So far, the two agencies have gathered significant support utilizing online channels such as social media and email bulletin systems to encourage involvement from community leaders and families in the area. Additional efforts to publicize the charity event have included a full length article in "Our Hometown," an online magazine hosted by the Rob Hyburg Agency, and a second article is slated for release this month.
In spring of this year, the Rob Hyburg Agency became a new member of the rapidly expanding "Agents of Change" national charity involvement program. As members of this movement, the Hyburg team will be seeking out and supporting additional Ohio charitable causes every 60 days.
Anyone wishing to be part of the Columbus area charity drive to support local homeless families alongside the Rob Hyburg Agency and Marion Matters, Inc. is personally invited to visit the following page and take action: http://www.robhyburgagency.com/Breaking-the-Cycle-of-Poverty-in-Marion-County_13_community_cause. Going forward, information on additional charitable organizations and nonprofit foundations assisted by the Rob Hyburg team will be made available on the agency's Community Causes webpage: http://www.robhyburgagency.com/community-cause.
About the Rob Hyburg Agency
As a Personal Finance Representative in Marion, agency owner Rob Hyburg knows many local families. His knowledge and understanding of the people in his community ensures that clients of Rob Hyburg Agency are provided with an outstanding level of service. Rob and his team look forward to helping families protect the things that are most important -- family, home, car and more. The Rob Hyburg Agency also offers clients a preparation strategy for achieving their financial goals. To contact an expert at the Rob Hyburg Agency, visit http://www.robhyburgagency.com/ or call (740) 389-2368.