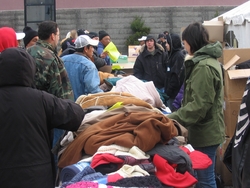 H.O.P.E. in Passaic County
Paterson, NJ (PRWEB) January 23, 2009
As bitter cold grips the state, Project Homeless Connect works to help the homeless in New Jersey.
On Wednesday, January 28, 2009, staff and volunteers representing non-profit and community groups will meet at Eva's Village, 393 Main Street, Paterson,New Jersey to aid the homeless in locating the services they require, including food, clothing, housing information, hygiene products, medical and dental services, mental health services, family services and much more. Project Homeless Connect at Eva's Village is one of many such events across the country that provides information and referral services to the homeless.
This event coincides with the Point in Time Survey, a nationwide effort driven by the U.S. Department of Housing and Urban Development to get an accurate snapshot of the homeless in America.
Eva's Village has participated in Project Homeless Connect, since its inception in 2007. Passaic County's Interagency Council on Homelessness has been working on a Ten Year Plan to End Chronic Homelessness called "H.O.P.E. in Passaic County" Housing Our People Everywhere in Passaic County.
Project Homeless Connect at Eva's Village is designed to help the homeless in NJ access the services available to them and to foster collaboration between non-profit, public, private and individual volunteers in the effort to end homelessness in New Jersey.
Sister Gloria Perez, Executive Director of Eva's Village, says, "As the coldest months of winter are upon us, it is even more important to reach out and help the poor in New Jersey, so Project Homeless Connect is a valuable program that connects the most unfortunate among us with the help and support they need."
Eva's Village has recently experienced a 10% increase in the number of poor coming to Eva's Kitchen, the well-known New Jersey soup kitchen at Eva's Village, with the number receiving a daily hot lunch reaching close to 400 on many days. "We turn nobody away who needs food, even though this often requires an additional seating to accommodate them" says Sister Gloria.
For more information about Project Homeless Connect at Eva's Village in Paterson, NJ, contact Barbara Niziol, at 973-523-6220 Ext. 226.
Originally a New Jersey soup kitchen, Eva's Village was founded in 1982 by Msgr. Vincent E. Puma in response to the homeless problem in his Paterson, NJ parish. But Msgr. Puma soon realized that a soup kitchen was not enough. With the generous support of thousands of donors and private and government grants, Eva's Village has grown into the most respected anti-poverty program in New Jersey, with a four-star rating (maximum) by Charity Navigator, an independent non-profit monitor.
Donate to Eva's Village NJ Charity or for more information, go to http://www.evasvillage.org/, call 973.523.6220, or write to: Donna Fico, Chief Marketing Officer, Eva's Village, 393 Main Street, Paterson, NJ, 07501.
This press release has been distributed by SalemGlobal Internet Interactive Public Relations. Based in New York City, SalemGlobal optimizes websites to increase donations for non profit organizations, increase traffic from search engines, provides lead generation, and improves conversion of site visitors to buyers. Other services include general website marketing, search engine optimization (SEO), ecommerce solutions, content management systems, website hosting, web design and maintenance. For more information, please contact CEO Raphi Salem at 646-217-4733.
###