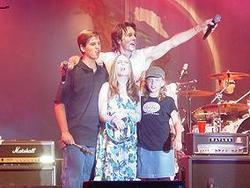 stars' by sharing the spotlight with their favorite celebrities. Starting out with make-overs, outfits, dinner, limo, hit by the
San Francisco, CA (PRWEB) March 26, 2008
A Star for the Night Foundation and nationwide radio has done life-changing events for over 300 children nationwide in nine years. All started by a single mom with a passion to change the lives of special kids. They empower sick, disabled and homeless children with these life-changing events, making them "stars' by sharing the spotlight with their favorite celebrities. Starting out with make-overs, outfits, dinner, limo, hit by the "paparazzi and up on stage to be a star at venues such as concerts, fashion shows, red carpet events and more.
For children that are too ill to do the huge on stage events, they have a nationwide radio show where the children are DJ's interviewing their favorite celebrities on nationwide radio right from their hospital beds. The foundation has had testimonials from children and parents that the endorphins and inspiration have given them the hope to continue through their horrific procedures and has been life-saving in many instances.
The children are taught to believe in their dreams and to go after them in the future-"mainly taught to ask for what they want". To enable them to continue their dream, some children get gift certificates for dancing, acting or modeling classes.
They have "A" - list stars participate like Mike Myers, Ben Stiller, Beyonc'e, Mandy Moore, Andy Garcia and more.
Events coming up are: kids on-stage with Kenny Loggins and interviewing him afterwards for the nationwide radio.
For sponsorship and advertising opportunities or featured stories contact:
A Star for the Night Foundation
http://www.astarforthenight.org
415-618-0406
###