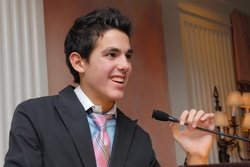 I know collecting socks is a small thing, but I hope I've been able to bring a little comfort to those I've come to regard as my friends at Eva's Village.
Paterson, NJ (PRWEB) October 16, 2007
Cold, wet weather is approaching fast, as one New Jersey teen shows how to make a difference for hundreds of the homeless in New Jersey.
Matthew Renzulli is not your ordinary High School student. For one thing, he has volunteered with his family for years at Eva's Kitchen, a New Jersey soup kitchen program sponsored by Eva's Village in Paterson, NJ that serves hundreds of meals everyday to the hungry and homeless in New Jersey. Through his service to the poor and homeless of New Jersey, Matthew learned that clean and dry socks are vital to their health and survival on the cold, wet streets.
Matthew initiated a plan to collect new socks by placing more than 30 sock collection boxes in schools, churches and local retail stores, collecting over 8,000 pairs of socks - and still counting. His model program demonstrates that good will is contagious and exemplifies the Eva's Village motto, "Where Hope Begins".
Matthew says he was initially apprehensive about volunteering in Eva's Kitchen, but was quickly won over by the friendliness and gratitude of the homeless family he served. "I know collecting socks is a small thing, but I hope I've been able to bring a little comfort to those I've come to regard as my friends at Eva's Village." The staff and board of directors of Eva's Village did not agree with Matthew that his efforts were a 'small thing', and awarded him with the first-ever "Where Hope Begins" Service Award at Eva's Annual Gala in 2007.
Originally a New Jersey soup kitchen, Eva's Village was founded in 1982 by Msgr. Vincent E. Puma in response to the homeless problem in his Paterson, NJ parish. But Msgr. Puma soon realized that a soup kitchen was not enough. By 1996, when -- with the generous support of donors and private and government grants -- Eva's moved to its new facility on Main Street, it had grown into a full-scale "village" with a mission to feed the hungry in New Jersey, Shelter the Homeless in NJ, Treat the Addicted in NJ and provide free medical care to the poor in NJ.
Today, Eva's Village is one of the most respected anti-poverty programs in New Jersey, with many programs that respect the human dignity of individuals:
Eva's Kitchen serves an average of 240 meals daily just to the homeless, and many more meals to the men, women and families who reside at Eva's Village.
Eva's Village Central Intake offers extensive case management for the poor and addicted.
Eva's Village Emergency Overnight Shelters for men and for women provide beds for chronically homeless men and women 18 years of age and older. Shelter clients receive food, shelter and clothing, plus assistance with progress toward independent living.
Eva's Village Shelter for Mothers and Children provides a safe and comfortable home for mothers over the age of 18 and up to 50 children who stay an average of four months in residence, providing a safe haven in which to stabilize their lives.
Eva's Village Transitional Apartments for Mothers and Children offers 6 two-bedroom apartments for families who need additional time and resources to move into their own apartment.
Eva's Village Men's Supportive Housing provides permanent affordable housing for formerly homeless men who have graduated from Eva's recovery.
Eva's Village Primary Care Clinic handles over 4,000 patient visits a year for medical, dental, and podiatric services to the homeless and working poor, largely provided through the generosity of volunteer physicians and dentists.
Eva's Village Residential Recovery Centers for Men and Women provide a three-phase treatment program usually lasting 9-12 months for those addicted to drugs or addicted to alcohol.
Eva's Village Intensive Outpatient Program offers counseling, group therapy, education, and aftercare based on the American Society of Addiction Medicine criteria, plus a full range of psychosocial services.
Eva's Village is actively seeking donors and volunteers to help our dedicated supports like Matthew Renzulli serve the increasing numbers of the homeless, addicted and poor in New Jersey.
To donate to Eva's Village, to find our about volunteer opportunities in New Jersey, or for more information, go to http://www.EvasVillage.org, call 973.523.6220, or write to: Sister Gloria Perez, Executive Director, Eva's Village, 393 Main Street, Paterson, NJ, 07501.
This press release has been distributed by SalemGlobal Internet Interactive Public Relations. Based in New York City, SalemGlobal (salemglobal.com) optimizes websites to increase traffic from search engines for the not-for-profit, travel, legal, healthcare, automotive and real estate industries, provides lead generation and improves conversion of site visitors to buyers. Other services include general website marketing, search engine optimization, ecommerce solutions, content management systems, website hosting, web design and maintenance. For further information, please contact Raphi Salem at 646-217-4733.
###